Unraveling the Deadly Grip of Fentanyl on America & the World

The World Affairs Council of Orange County presents:

Unraveling the Deadly Grip of Fentanyl on America & The World featuring:

State Senator Tom Umberg

California is facing an unprecedented drug crisis both in scale and nature, requiring timely legislative responses. Fentanyl, a type of synthetic opioid, is responsible for over two-thirds of drug-related deaths, which spiked last year to 21,000 in California alone. The crisis is especially prevalent in Orange County, with deaths by fentanyl overdose reported to have gone up by 177%, and more potent analogs of fentanyl continued to be found. Moreover, fentanyl is often unknowingly consumed by individuals who believe they are taking other drugs, meaning that the fatal risk of a fentanyl overdose is not taken into consideration by those accidentally taking them, resulting in preventable deaths. Fentanyl precursors are largely sourced from abroad, in places like China and India, which are then shipped to Mexico, where most production takes place. Collaboration with these countries to crack down on fentanyl's production and movement is integral if wish to halt the fentanyl epidemic in the United States.

To tackle this urgent crisis, Senator Tom Umberg proposes several legislative measures: Senate Bill 60, aimed at preventing drug sales on social media, a main outlet for illicit drugs for the youth; Senate Bill 250, expanding the 9-1-1 Good Samaritan Law and providing fentanyl immunity, encouraging people to report their dealers; Senate Concurrent Resolution 39, establishing National Fentanyl Awareness Day; and Senate Bill 44, also known as Alexandra's Law, which aims to hold fentanyl sellers accountable for homicide and prevent fentanyl-related deaths through warnings.

An In-Person Dinner Event

Date & Time:

Wednesday, September 20, 2023

5:30 PM: Reception

6:30 PM: Main Program & Q&A

Location:
Pavilion A
CSUF Titan Student Union
800 N. State College Blvd.
Fullerton, CA 92831

Tickets:
Early Bird Registration!
Register by Sept 13 to receive discounted ticket prices.
Discounted prices below:
Members: $45
Non-members: $65
Young Professionals members: $35
Students: Free

Thank you to our community partner, ClearSaves!

ClearSaves is an altruistic nonprofit endeavor fervently committed to engendering positive change within society by championing harm reduction. Through its innovative modus operandi, ClearSaves aspires to furnish the populace with vital resources that facilitate the safeguarding of human lives from the perilous peripheries of the opioid crisis.

Check out the ClearSaves table at our event for resources and information on how you can help.

Thank you to our community partner, FentanylSolution.org!

FentanylSolution.org's mission is to deliver comprehensive education, powerful advocacy, and unwavering community support to eradicate fentanyl deaths in the United States.

Check out the Fentanyl Solution booth at our event for more information and resources on the fentanyl crisis!

Empowering Community Resilience: FentanylSolution.org Takes Center Stage at OC Pride Parade and Festival
On Saturday, June 24th, 2023, Downtown Santa Ana was filled with vibrant energy as OC Pride, a non-profit LGBTQ+ organization, organized the Brilliant Resilience Pride Festival and Parade. The event was a true testament to unity, and the performances electrified the atmosphere.
It was an immense source of pride for us to champion our cause and distribute hundreds of our 'Stop Fentanyl Packs'. Each pack contains 2 doses of naloxone and 2 fentanyl test strips to festival attendees.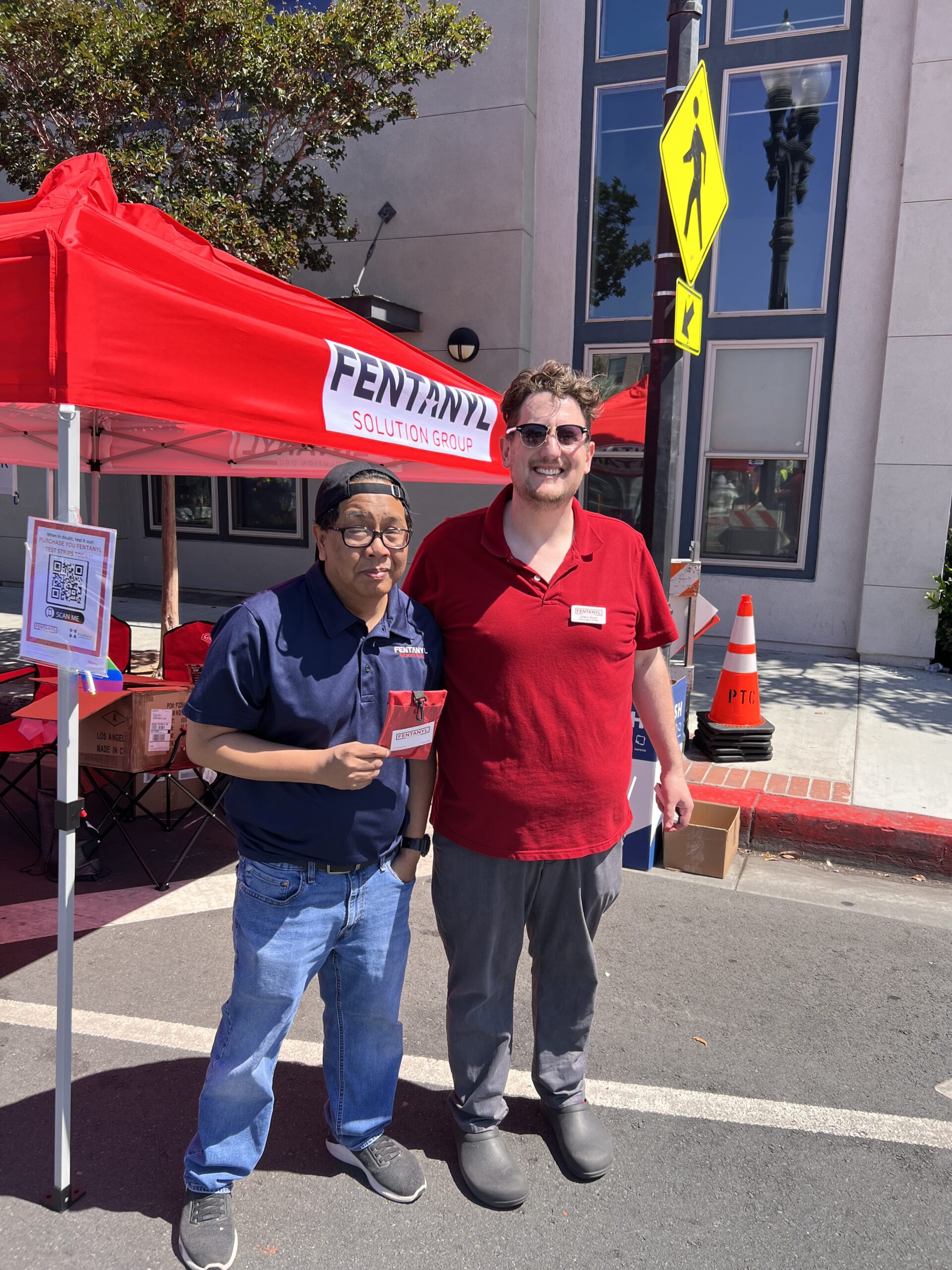 As we stood in solidarity with the LGBTQ+ community, we were overwhelmed by the outpouring of support we received in return.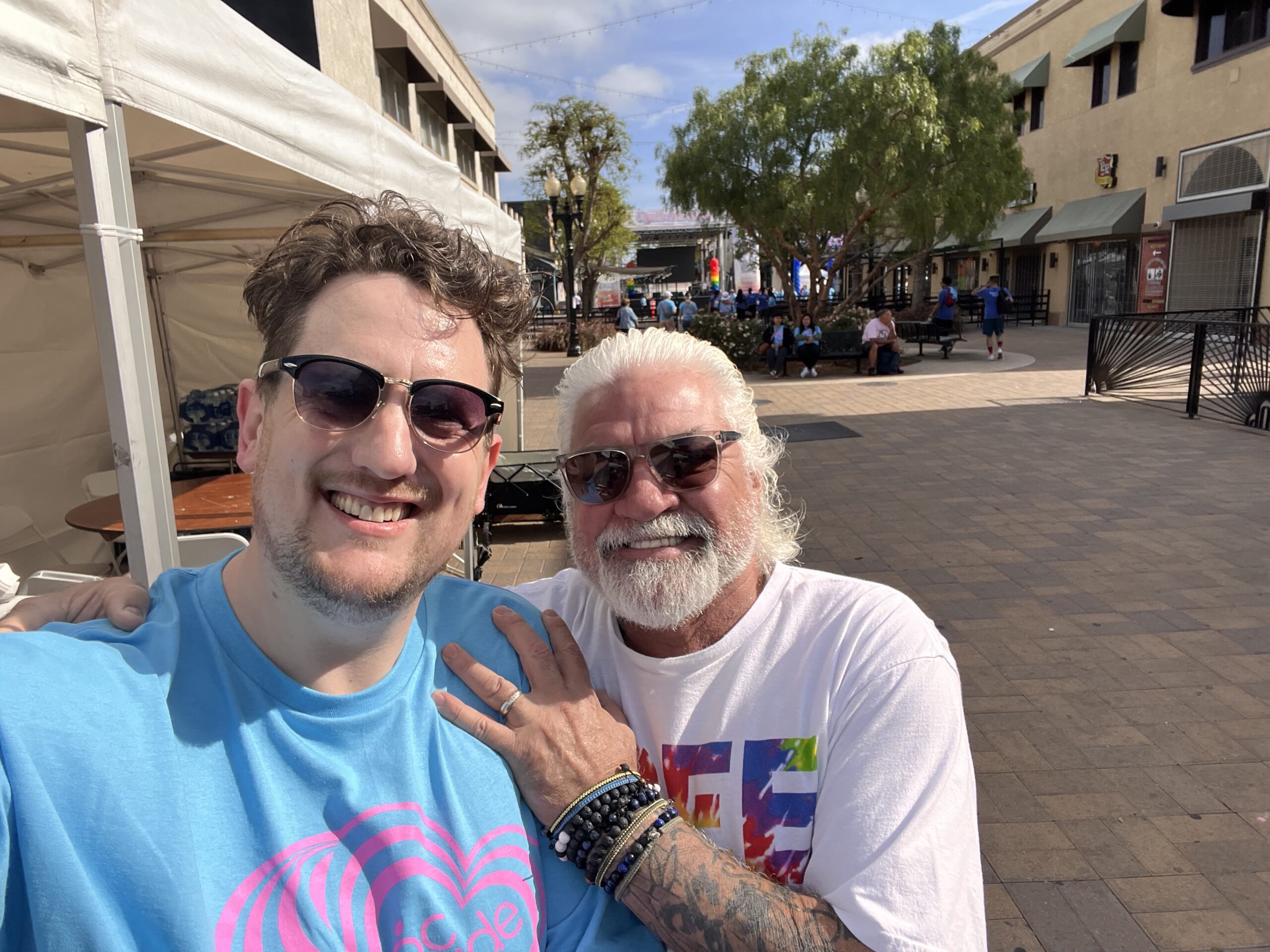 Countless people shared their heart-wrenching 'fentanyl stories' of losing loved ones—mothers, fathers, siblings, daughters, sons, and friends—to illicit fentanyl poisonings. The fentanyl crisis has permeated the lives of almost every individual in some manner or another.
The time for action is now. Let us raise awareness, disseminate information, and ensure that naloxone and fentanyl test strips remain easily accessible. If you find yourself in need, seek help. Ask us to host a 'Save-a-Life Lunch & Learn' – a training in which we go over the dangers of illicit fentanyl, how to use naloxone and provide Stop Fentanyl Packs. If you would like to purchase fentanyl test strips for yourself, your friends, family or community, check out this link, WiseBatch Fentanyl Test Strips. You can also be a volunteer and become either a trainer or ambassador. Please reach out to us at info@fentanylsolution.org. Together, we can make a difference.
Join us in our crucial mission to save lives from the fentanyl crisis and drive impactful awareness. Your donation today will make a significant difference!
---
This article includes an affiliate link.

Father's Against Fentanyl Rally Calls for Action on Father's Day, Urges California Attorney General Rob Bonta to Address Crisis

On Father's Day, Sunday, June 16, 2023, a powerful movement unfolded in front of the California Attorney General's office in Los Angeles, as groups from all across Southern California gathered for the Father's Against Fentanyl rally and press conference. Led by the passionate advocate Matt Capelouto, parents and loved ones who have tragically lost family members to fentanyl poisoning came together to shed light on the devastating impact of the fentanyl crisis. Their urgent plea was directed at California Attorney General Rob Bonta, himself a father, to take decisive action in addressing the fentanyl epidemic.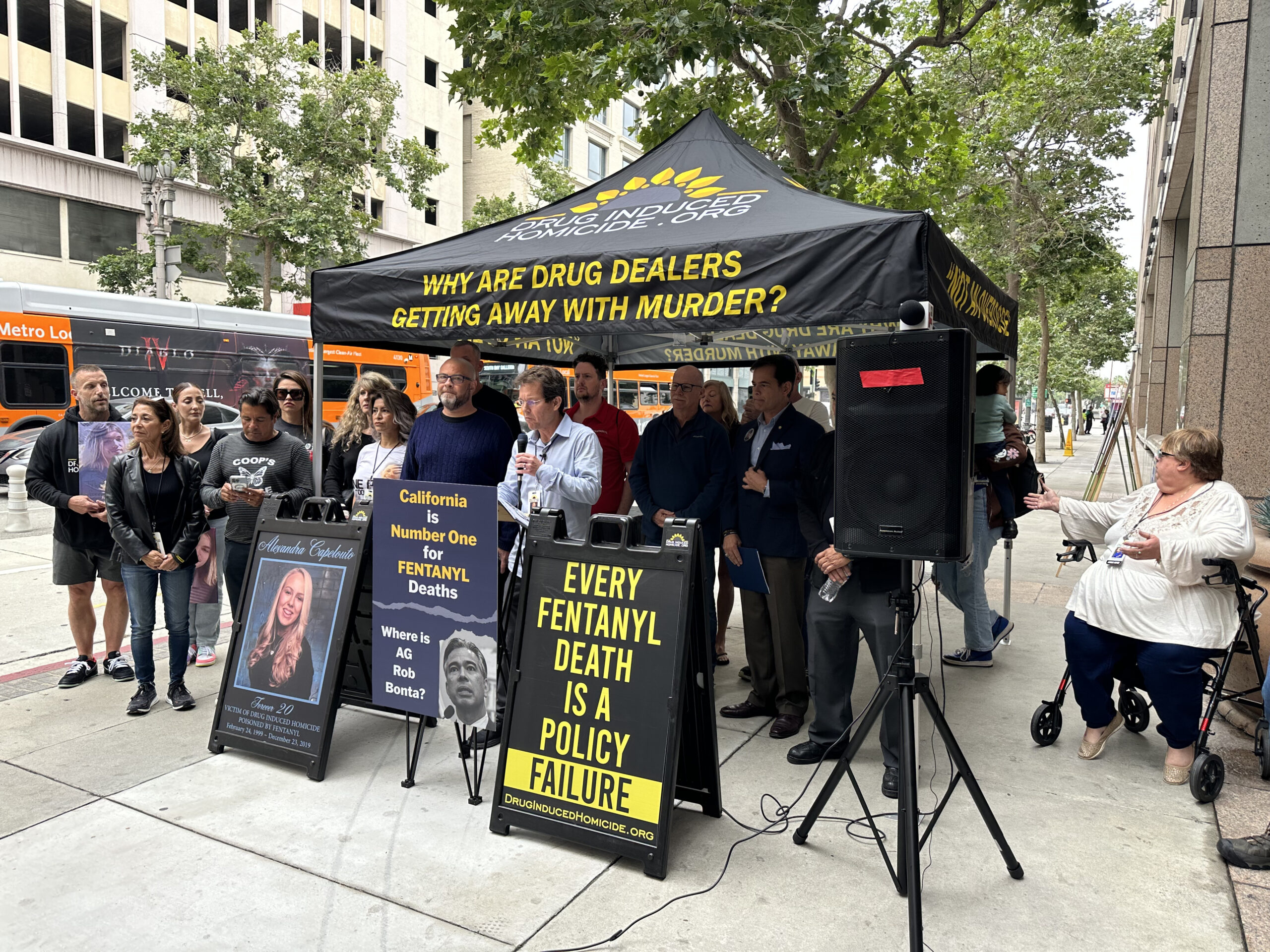 Raising Awareness and Demanding Action
The Father's Against Fentanyl rally on Father's Day was a poignant and symbolic event. Grieving parents and their allies stood united, sharing their personal stories of loss and emphasizing the critical need for effective measures to combat the fentanyl epidemic. Their heartfelt appeals echoed the experiences of countless families devastated by this deadly drug, magnifying the urgency for action.
FentanylSolution.org's Support
During the rally, representatives from various news organizations attended the press conference and conducted interviews with participants. Among those sharing their insights and experiences was Shane Wood, the Director of Development at FentanylSolution.org. The organization, known for its unwavering commitment to combating the fentanyl crisis, joined Matt Capelouto and his organization DrugInducedHomicide.org, has been a leading force in raising awareness, advocating for policy changes, and supporting affected families.
Both organizations have played a crucial role in providing vital resources and information to educate communities about the dangers of fentanyl. Their websites serve as a comprehensive platform offering facts, statistics, and guidance on recognizing and responding to fentanyl-related risks. Through their initiatives, FentanylSolution.org has worked tirelessly to empower individuals and foster dialogue on this pressing issue.
Addressing the Fentanyl Crisis
The prevalence of fentanyl-related deaths has reached alarming levels in recent years, not only in Southern California but across the United States. Fentanyl, a synthetic opioid that is significantly more potent than heroin and morphine, poses a severe threat to public health. Its presence in illicit drug markets has led to a surge in overdose fatalities, leaving families devastated and communities in turmoil.
To effectively combat the fentanyl crisis, a comprehensive and coordinated approach is necessary. This includes increasing penalties for drug traffickers who kill with illicit fentanyl. FentanylSolution.org, along with other dedicated organizations and community activists, advocates for these measures and urges policymakers, including California Attorney General Rob Bonta, to take decisive action.
The Role of California Attorney General Rob Bonta
Rob Bonta, the California Attorney General and a father himself, holds a position of influence and responsibility in addressing the fentanyl crisis. As the state's top law enforcement officer, he plays a vital role in shaping policies and directing resources to combat the epidemic. The Father's Against Fentanyl rally urged Attorney General Bonta to prioritize this urgent issue, employing his authority and influence to drive meaningful change.
Additionally, Assemblywoman Mia Bonta, Rob Bonta's wife, serves on the Assembly Public Safety Committee, which plays a crucial role in shaping legislation related to public safety, including penalties for fentanyl-related offenses. The rally participants expressed concern about the committee's lack of progress in passing bills with penalties, highlighting the urgent need for action and collaboration across all levels of government.
The Father's Against Fentanyl rally on Father's Day was a powerful demonstration of the collective determination to combat the fentanyl crisis and protect communities from the devastating consequences of this lethal drug. Led by Matt Capelouto and supported by FentanylSolution.org, grieving parents and loved ones came together, sharing their stories and intensifying the call for tangible action.
As the fight against fentanyl continues, it is crucial for organizations like FentanylSolution.org to provide essential resources, engage the public, and advocate for policy changes. Together, with the leadership of California Attorney General Rob Bonta and the collective efforts of policymakers, community activists, and affected families, we can forge a path towards a future free from the grip of this deadly epidemic.
---
FentanylSolution.org Launches $2.2 Million Poll-to-Prop Initiative to Combat Fentanyl Epidemic in California

Fentanyl is a highly potent synthetic opioid that has caused immense harm to communities across the United States, including California. The drug, which is up to 100 times more potent than morphine, has been linked to a sharp increase in overdose deaths in recent years, leading to calls for harsher penalties for drug dealers who sell the substance.
FentanylSolution.org, a leading advocacy group committed to raising awareness about the dangers of fentanyl and advocating for stricter penalties for drug dealers who sell the substance, is proud to announce the launch of its $2.2 million Poll-to-Prop initiative.
The initiative seeks to gather public opinion about the need for stricter penalties for drug dealers who sell fentanyl and murder their customers. The results of the poll will be used to draft a statewide proposition that will be put on the ballot for the next presidential election. FentanylSolution.org has partnered with McNally Temple Associates to conduct the poll and gather data that will be used to shape the proposition.
The Poll-to-Prop initiative is a response to the lack of progress of legislative bills aimed at enforcing severe penalties for drug dealers who sell fentanyl and harm their customers. Despite repeated efforts, these bills have failed to pass the Public Safety Committee, prompting FentanylSolution.org to take the initiative and work towards bringing this issue directly to the public through a proposed proposition on the ballot.
"We believe that drug dealers who sell fentanyl and murder their customers must be held accountable for their actions," said Janice M. Celeste, President & CEO of FentanylSolution.org. "The Poll-to-Prop initiative is a crucial step in our efforts to raise awareness about the need for stricter penalties for these criminals."
The $2.2 million initiative marks a significant investment in the fight against fentanyl and represents a major commitment by FentanylSolution.org to its mission of creating safer communities across California. The organization is committed to bringing the proposition to the ballot in the next presidential election and ensuring that the voices of Californians are heard on this important issue.
FentanylSolution.org is dedicated to creating awareness about the dangers of fentanyl and advocating for the development of effective policies that can help combat the opioid epidemic in California. The organization works closely with law enforcement, public health officials, and community leaders to raise awareness about the dangers of fentanyl and provide support to individuals and families affected by the epidemic.
By launching the $2.2 million Poll-to-Prop initiative, FentanylSolution.org is taking a major step forward in the fight against the fentanyl epidemic in California. The organization's commitment to gathering public opinion and shaping policy that reflects the needs and concerns of Californians is crucial in the ongoing effort to combat the opioid crisis. As we move forward, it is important that we continue to support organizations like FentanylSolution.org that are working tirelessly to create safer communities and combat the devastating effects of the opioid epidemic.
Be sure to sign up to be Friends of FentanylSolution.org to stay up-to-date about the Poll-to-Prop initiative.
---