Father's Against Fentanyl Rally Calls for Action on Father's Day, Urges California Attorney General Rob Bonta to Address Crisis

On Father's Day, Sunday, June 16, 2023, a powerful movement unfolded in front of the California Attorney General's office in Los Angeles, as groups from all across Southern California gathered for the Father's Against Fentanyl rally and press conference. Led by the passionate advocate Matt Capelouto, parents and loved ones who have tragically lost family members to fentanyl poisoning came together to shed light on the devastating impact of the fentanyl crisis. Their urgent plea was directed at California Attorney General Rob Bonta, himself a father, to take decisive action in addressing the fentanyl epidemic.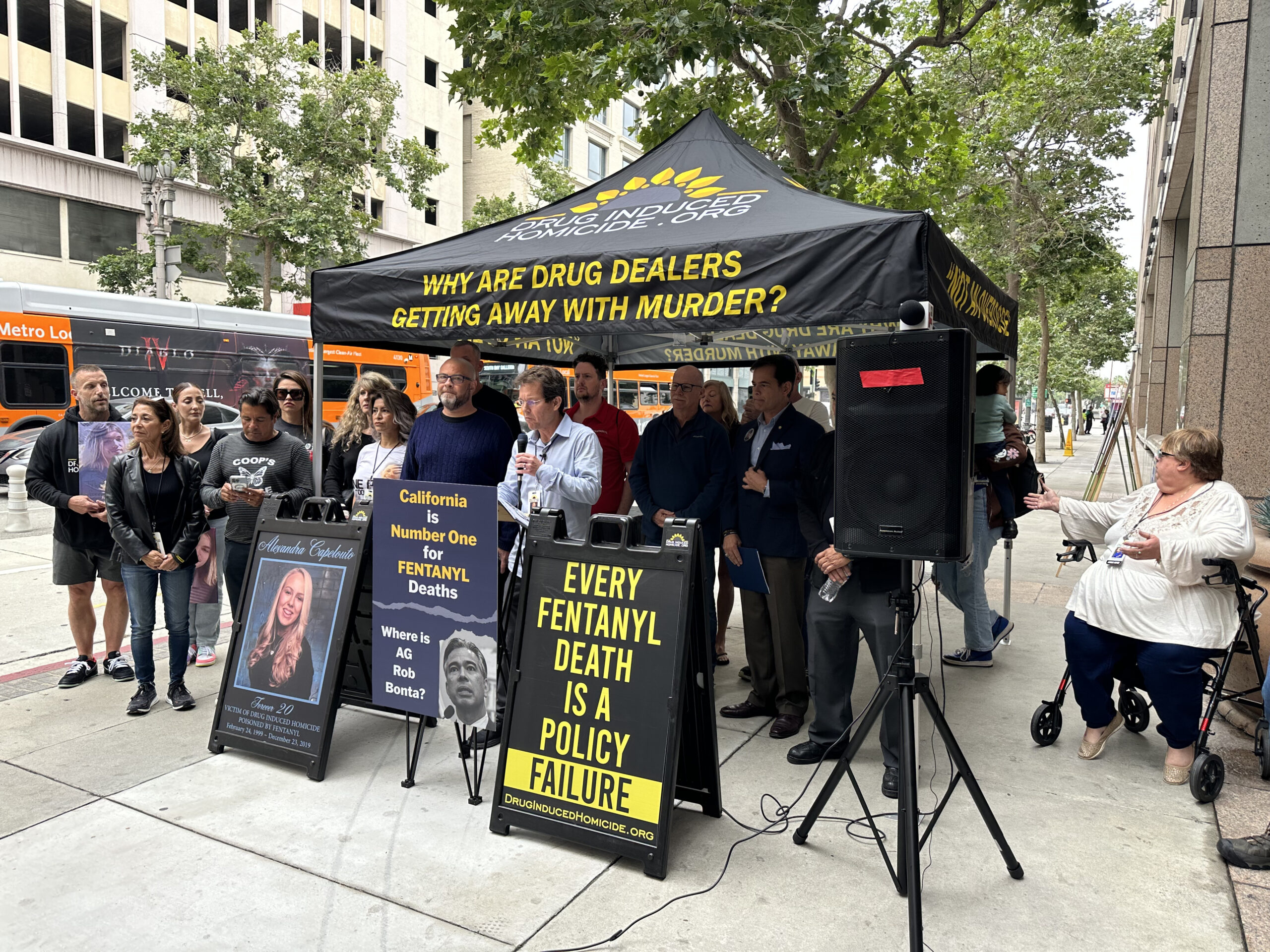 Raising Awareness and Demanding Action
The Father's Against Fentanyl rally on Father's Day was a poignant and symbolic event. Grieving parents and their allies stood united, sharing their personal stories of loss and emphasizing the critical need for effective measures to combat the fentanyl epidemic. Their heartfelt appeals echoed the experiences of countless families devastated by this deadly drug, magnifying the urgency for action.
FentanylSolution.org's Support
During the rally, representatives from various news organizations attended the press conference and conducted interviews with participants. Among those sharing their insights and experiences was Shane Wood, the Director of Development at FentanylSolution.org. The organization, known for its unwavering commitment to combating the fentanyl crisis, joined Matt Capelouto and his organization DrugInducedHomicide.org, has been a leading force in raising awareness, advocating for policy changes, and supporting affected families.
Both organizations have played a crucial role in providing vital resources and information to educate communities about the dangers of fentanyl. Their websites serve as a comprehensive platform offering facts, statistics, and guidance on recognizing and responding to fentanyl-related risks. Through their initiatives, FentanylSolution.org has worked tirelessly to empower individuals and foster dialogue on this pressing issue.
Addressing the Fentanyl Crisis
The prevalence of fentanyl-related deaths has reached alarming levels in recent years, not only in Southern California but across the United States. Fentanyl, a synthetic opioid that is significantly more potent than heroin and morphine, poses a severe threat to public health. Its presence in illicit drug markets has led to a surge in overdose fatalities, leaving families devastated and communities in turmoil.
To effectively combat the fentanyl crisis, a comprehensive and coordinated approach is necessary. This includes increasing penalties for drug traffickers who kill with illicit fentanyl. FentanylSolution.org, along with other dedicated organizations and community activists, advocates for these measures and urges policymakers, including California Attorney General Rob Bonta, to take decisive action.
The Role of California Attorney General Rob Bonta
Rob Bonta, the California Attorney General and a father himself, holds a position of influence and responsibility in addressing the fentanyl crisis. As the state's top law enforcement officer, he plays a vital role in shaping policies and directing resources to combat the epidemic. The Father's Against Fentanyl rally urged Attorney General Bonta to prioritize this urgent issue, employing his authority and influence to drive meaningful change.
Additionally, Assemblywoman Mia Bonta, Rob Bonta's wife, serves on the Assembly Public Safety Committee, which plays a crucial role in shaping legislation related to public safety, including penalties for fentanyl-related offenses. The rally participants expressed concern about the committee's lack of progress in passing bills with penalties, highlighting the urgent need for action and collaboration across all levels of government.
The Father's Against Fentanyl rally on Father's Day was a powerful demonstration of the collective determination to combat the fentanyl crisis and protect communities from the devastating consequences of this lethal drug. Led by Matt Capelouto and supported by FentanylSolution.org, grieving parents and loved ones came together, sharing their stories and intensifying the call for tangible action.
As the fight against fentanyl continues, it is crucial for organizations like FentanylSolution.org to provide essential resources, engage the public, and advocate for policy changes. Together, with the leadership of California Attorney General Rob Bonta and the collective efforts of policymakers, community activists, and affected families, we can forge a path towards a future free from the grip of this deadly epidemic.
---
FentanylSolution.org VIDEO: Paving the Way for a Safer Future

The fentanyl crisis has emerged as one of the most pressing public health concerns in recent years, claiming countless lives and devastating communities around the world. In the face of this alarming epidemic, organizations and initiatives that strive to combat the spread of fentanyl and raise awareness about its dangers play a crucial role. Today, we delve into FentanylSolution.org, an organization making its mark in the fentanyl space, and we explore our debut video, which serves as an introduction to our mission and vision.
Setting the Stage: The Fentanyl Crisis Unveiled
The video commences by providing an overview of the gravity of the fentanyl crisis, delving into statistics and personal stories that underscore the devastating impact this synthetic opioid has had on individuals, families, and communities. The narrative skillfully presents the urgency of the issue, setting the stage for the need for collaborative efforts to combat fentanyl-related harms.
Meet FentanylSolution.org: An Organization with a Vision
FentanylSolution.org takes center stage as the video transitions to introduce the organization itself. The viewers are introduced to the organization that tackles the fentanyl crisis head-on. Its shared dedication to finding solutions is evident, instilling hope and optimism in viewers that progress can be made.
Pillars of Action: The Multi-Faceted Approach
One of the strengths of FentanylSolution.org's debut video lies in its interpretation of the organization's multi-faceted approach to tackling the fentanyl crisis. Some of these pillars of action are:
Prevention and Education: The organization emphasizes the importance of spreading awareness and providing accurate information about fentanyl, its dangers, and potential risk reduction strategies. By educating both the general public and key stakeholders, FentanylSolution.org aims to empower individuals and communities to make informed decisions.
Policy and Advocacy: FentanylSolution.org recognizes the need for policy changes and legislative action to effectively address the fentanyl crisis. By engaging with policymakers, law enforcement agencies, and other influential stakeholders, the organization aims to advocate for evidence-based policies that prioritize saving lives, public health and access to treatment.
Call to Action: Mobilizing Change
The debut video concludes with a powerful call to action, encouraging viewers to join the fight against the fentanyl crisis. FentanylSolution.org invites individuals to engage with the organization's initiatives, volunteer their time or expertise, and support their advocacy efforts. By mobilizing a global community committed to making a difference, FentanylSolution.org aims to create a future free from the devastating impact of fentanyl.
---
Bill on Fentanyl-Related Drug Penalties Passed House with Bipartisan Support

Washington, DC. — In a rare display of bipartisan cooperation, dozens of Democrats joined their Republican counterparts in passing a bill focused on fentanyl-related drug penalties. This legislation aims to address the growing concerns surrounding the illicit use and distribution of fentanyl, a potent synthetic opioid linked to a significant rise in overdose deaths across the United States.
The recently passed bill has potential implications for fentanyl dealers in California, where the impact of this dangerous drug has been particularly severe. Here are some key points on how the bill might affect fentanyl dealers in the state:
Increased Penalties: The bill likely includes provisions that would enhance penalties for fentanyl-related offenses. This could lead to stricter sentences and harsher consequences for individuals involved in the illegal production, distribution, and sale of fentanyl in California.
Sentencing Guidelines: The legislation might establish specific sentencing guidelines that judges must consider when dealing with fentanyl-related cases. These guidelines could aim to ensure more consistent and severe punishments for offenders involved in fentanyl trafficking or sales.
The HALT Fentanyl Act still has to pass in the Senate and has a good chance. Biden has given his nod that he will sign the bill into law. Stay tuned.
---
Fentanyl Bills PASSED
---
AB 19 – Requires schools to keep Narcan available on campus.

AB 33 – Creates a Fentanyl Addiction and Overdose Prevention Task Force.

AB 461 – Makes fentanyl test strips available on college campuses.

AB 474 – Fosters cooperation between the State Threat Assessment Center and local law enforcement for fentanyl enforcement.

AB 701 – Creates a sentencing enhancement for possessing enough fentanyl to kill at least half a million people.

AB 889 – Ensures parents are taught about the dangers of fentanyl.

AB 890 – Creates a fentanyl-specific probation class for those convicted of fentanyl crimes.

AB 915 – Teaches students to recognize overdoses and how to use Narcan.

AB 1060 – Requires insurers to cover the cost of Narcan.

FentanylSolution.org On NBC4 With Lolita Lopez

Janice M. Celeste, the President & CEO of FentanylSolution.org, has been making headlines in California for the organization's proposed solution to the fentanyl crisis. Recently, Celeste appeared on NBC 4 News in Los Angeles with reporter Lolita Lopez to discuss the organization's efforts to combat the crisis.
During the interview, Celeste emphasized the importance of addressing the issue of fake pills and laced drugs, which are major contributors to unintentional overdoses and deaths. She explained that dealers often mix fentanyl with other drugs to increase their profits, and that many pills sold on the street are counterfeit and may contain lethal doses of fentanyl.
To address this problem, Celeste's organization has proposed their Poll-to-Prop initiative. The proposition would increase penalties for dealers who knowingly sell drugs laced with fentanyl.
The proposition has received support from a wide range of organizations, including law enforcement, healthcare professionals, and addiction treatment centers. However, some critics argue that it resembles the War on Drugs, but Celeste argued that "When in history have drug dealers killed exponentially?"
Regardless of these criticisms, Celeste and FentanylSolution. org are taking a bold step in proposing a solution to the fentanyl crisis. The group is on schedule to get the initiative on the Presidential ballot and their efforts have brought much-needed attention to this urgent public health crisis.
---