Free Fentanyl-Related Community Reference Aid Resources

The opioid crisis has taken a devastating toll on communities across the United States, and Southern California is no exception. To combat the rising threat of fentanyl-related overdoses, the Joint Regional Intelligence Center (JRIC), in partnership with the Overdose Response Strategy (ORS), has undertaken a comprehensive landscape analysis.
This analysis spans seven counties in Southern California, including Los Angeles, Orange, Riverside, San Bernardino, San Luis Obispo, Santa Barbara, and Ventura County.
To identify and provide access to free services for those in need of fentanyl test strips, naloxone, and prevention/treatment services.
The opioid crisis has grown increasingly dire in recent years, with fentanyl emerging as a particularly lethal component of this epidemic. Fentanyl is a synthetic opioid that is 50 to 100 times more potent than morphine, making it a significant contributor to opioid-related overdoses. To address this crisis, it is imperative to provide resources and support to those at risk and their communities.
The landscape analysis is a pioneering effort to map out the availability of free services related to fentanyl across Southern California. This initiative aims to bridge the gap between individuals in need and the essential resources required for their safety and recovery. The seven counties covered by the analysis represent a substantial portion of the region's population, making this endeavor all the more significant.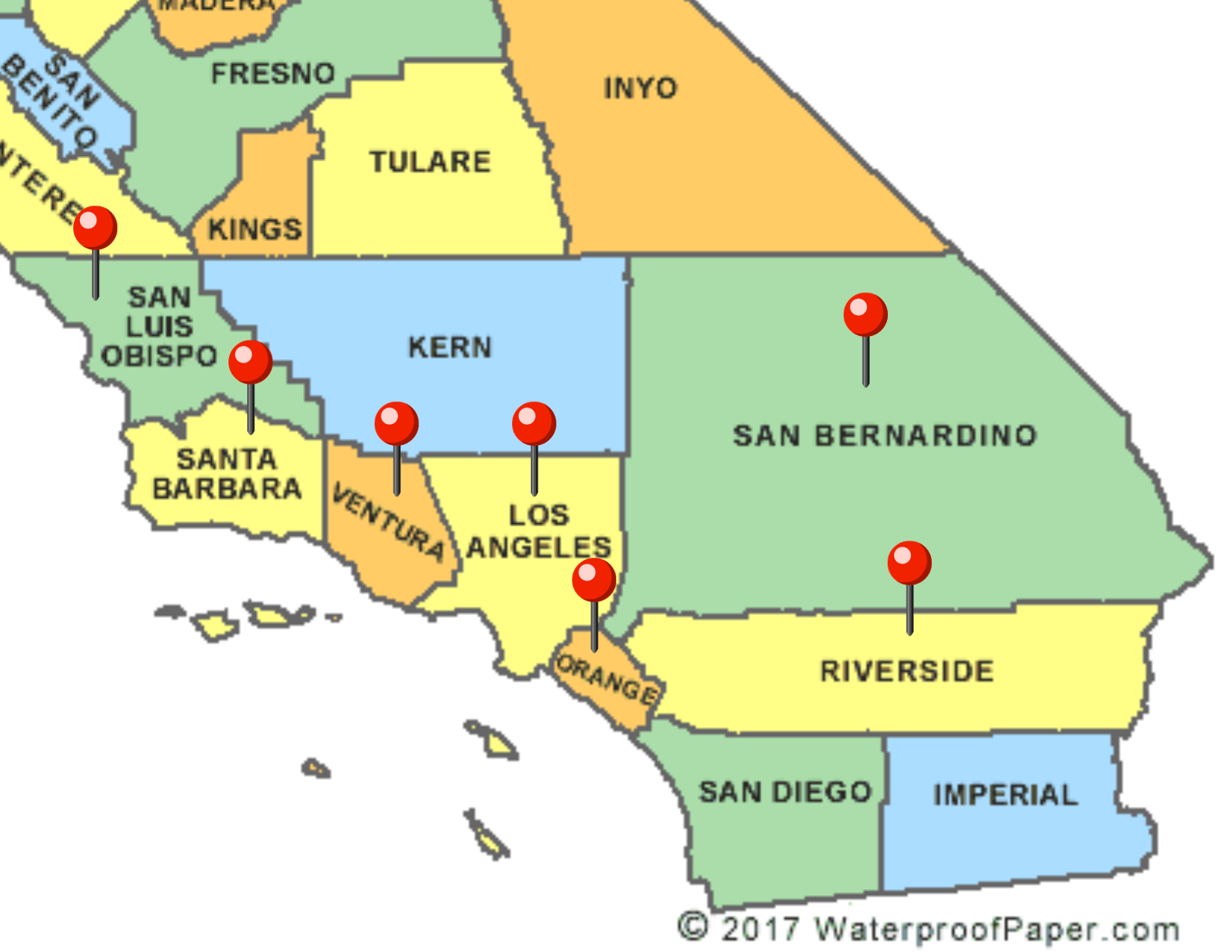 Recognizing the diversity of the Southern California population, the JRIC and ORS have gone the extra mile by providing resources in both English and Spanish. This inclusivity ensures that language barriers do not hinder individuals from accessing life-saving assistance. Whether you speak English or Spanish, these resources are readily available to you, reaffirming the commitment to leaving no one behind in the battle against opioid addiction. By clicking on a specific county and version, users can access a one-page list of free fentanyl resources.

The opioid crisis is an ever-evolving challenge. These resources will be updated every six months. This commitment to ongoing improvement ensures that individuals and organizations can rely on accurate and up-to-date information when assisting those in need.

By identifying and sharing these resources, we empower individuals and organizations to take action, save lives, and build healthier communities. Together, we can make a difference in the fight against fentanyl poisonings.

Join us in our crucial mission to save lives from the fentanyl crisis and drive impactful awareness. Your donation today will make a significant difference!

Narcan Hits Shelves at Major Retailers: A Lifesaving Solution to California's Fentanyl Crisis

In a significant step towards combating the alarming rise of fentanyl-related fatalities, Narcan, a life-saving medication used to reverse opioid overdoses, is set to become more accessible than ever. Major retailers, including CVS, Walmart, Walgreens, and Rite-Aid, are now stocking their shelves with Narcan, providing a glimmer of hope amidst the devastating opioid crisis that continues to plague our communities.
The Urgent Need for Narcan in California
The urgency of this development cannot be overstated, particularly in California, where the illicit use of fentanyl has reached catastrophic proportions. Recent statistics reveal that a staggering 117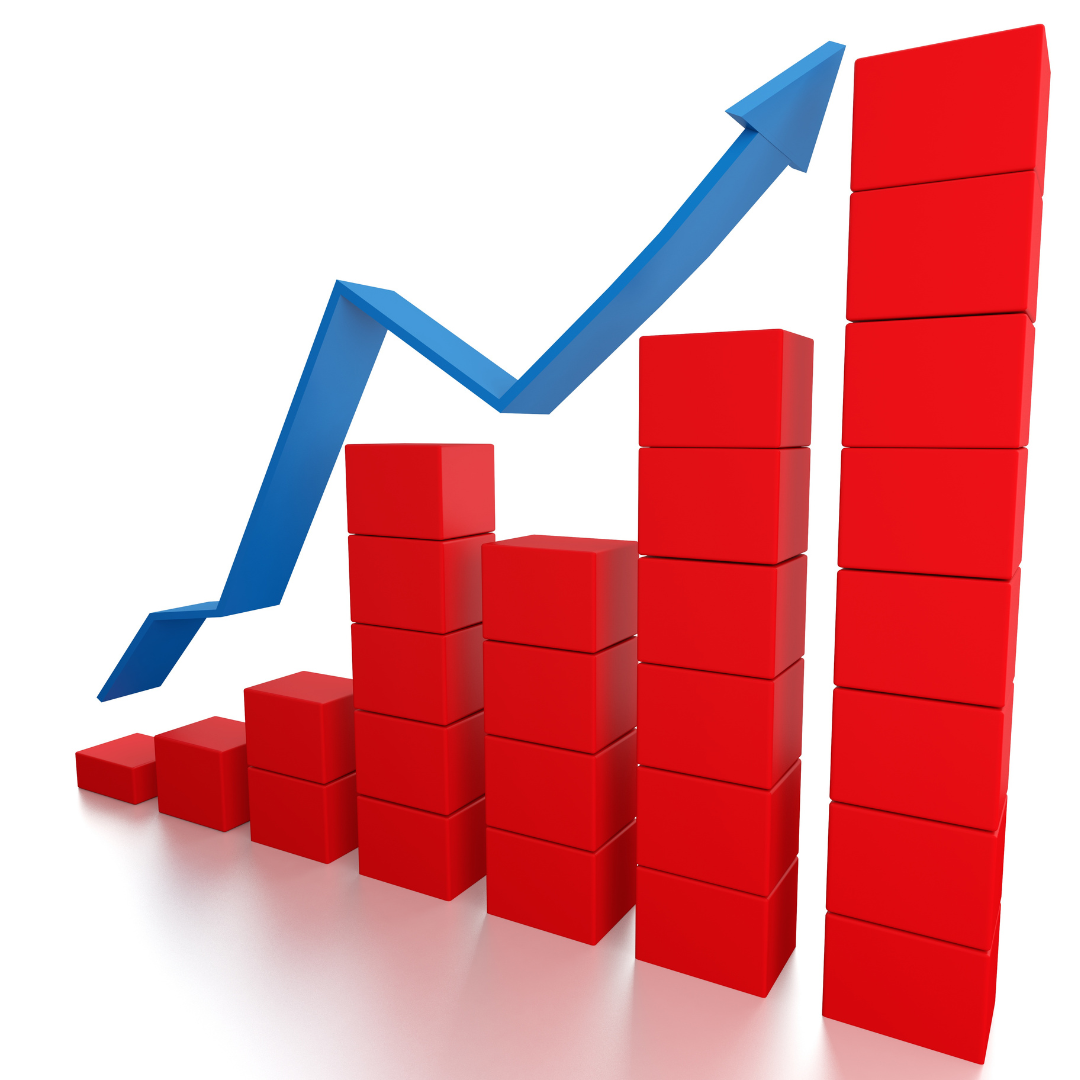 Californians succumb to illicit fentanyl poisonings every week. This harrowing reality underscores the critical importance of Narcan's widespread availability, as it has the potential to save countless lives and serve as a crucial tool in the fight against this deadly epidemic.
FentanylSolution.org: A Beacon of Hope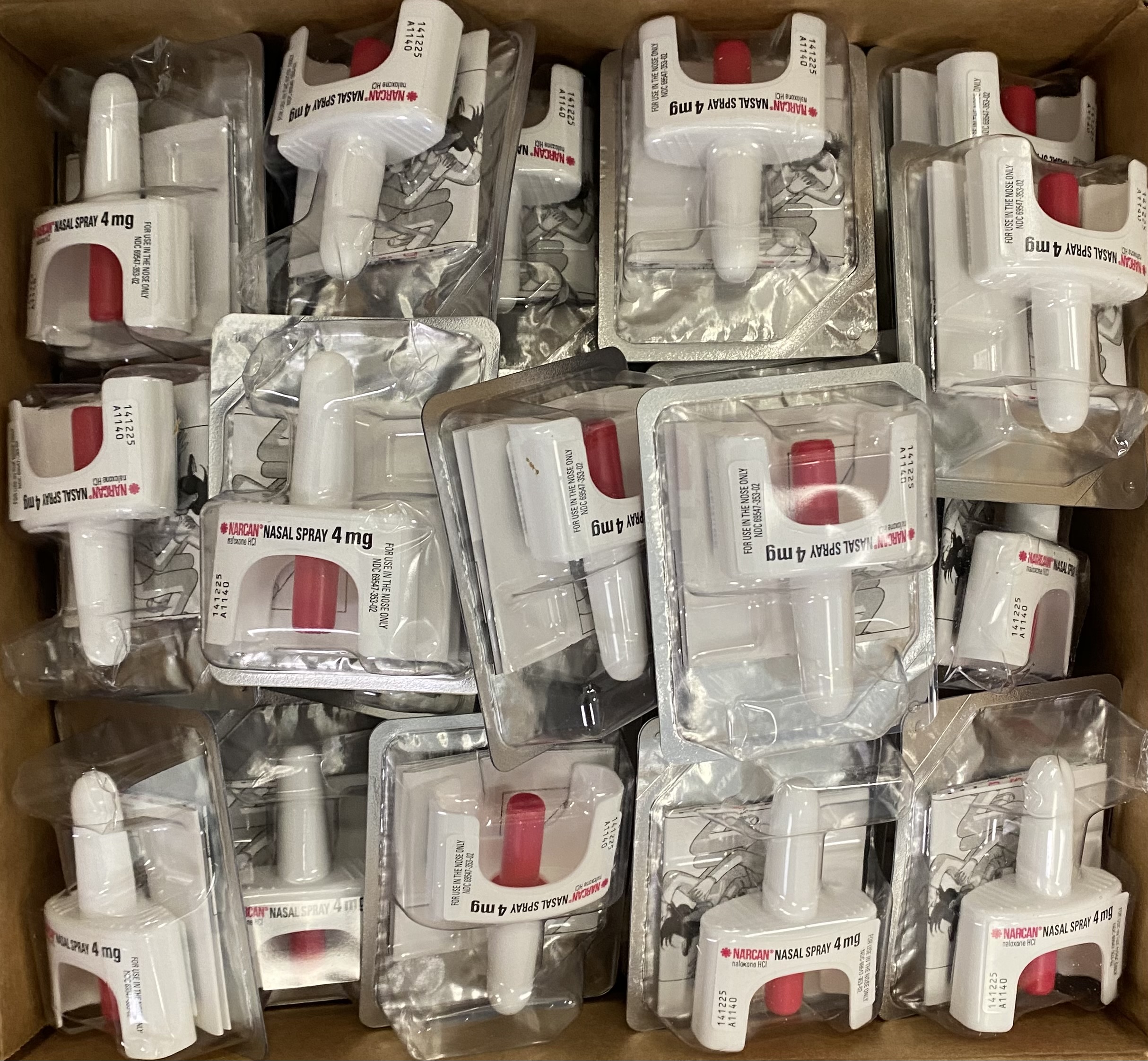 In response to this dire situation, our organization has emerged as a beacon of hope and a key player in the battle against opioid overdoses. Operating as a Naloxone Distribution
Center, we have taken significant strides to ensure that Narcan is easily accessible to those who need it most. Our organization's mission revolves around providing immediate access to Narcan, with the ultimate goal of minimizing the tragic loss of life caused by fentanyl overdoses.
Convenient Access in Newport Beach
Our office is located in Newport Beach, CA. We offer a readily available resource for anyone seeking Narcan. Our office serves as a welcoming and nonjudgmental space

for individuals, families, and concerned citizens to obtain this life-saving medication. In a crisis where time is of the essence, we ensure that Narcan is just a visit away. Please call 888-931-6244 for more information.

The arrival of Narcan at major retailers and the dedication of our organization mark a turning point in the fight against the opioid epidemic, particularly in California. With hundreds of lives lost weekly to illicit fentanyl use, the need for accessible Narcan has never been greater. It is a critical tool that belongs in every first aid kit, and its presence on store shelves signifies progress towards a safer, more informed, and compassionate society. As we continue this battle against opioid overdoses, let us remember that knowledge, empathy, and readily available resources like Narcan can be the difference between life and death, offering hope to countless individuals and their families.

Join us in our crucial mission to save lives from the fentanyl crisis and drive impactful awareness. Your donation today will make a significant difference!

Forever Angels Dedication

To begin October Drug Awareness Month, FentanylSolution.org will post a dedication video to the loved ones lost to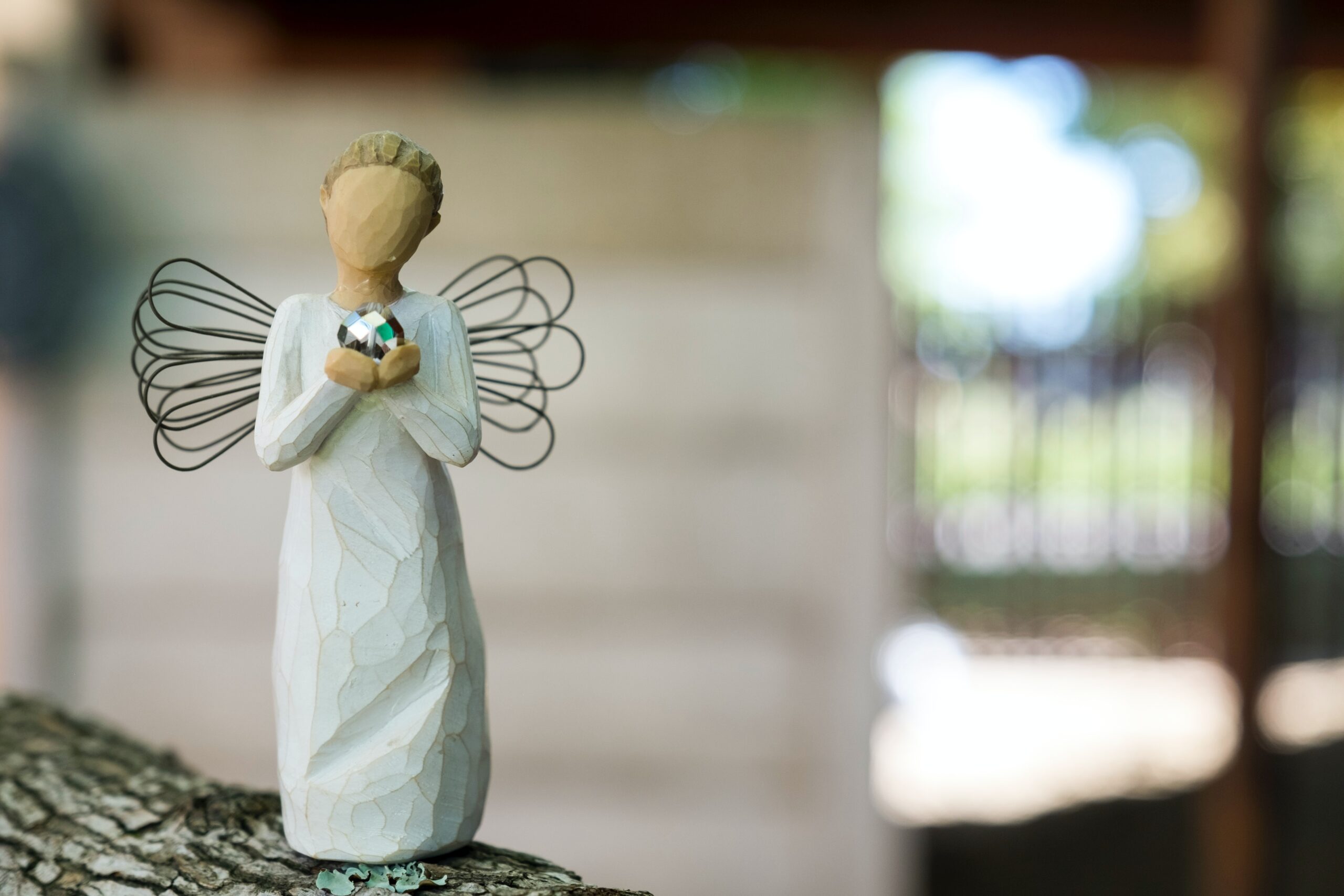 fentanyl poisoning, our 'Forever Angels' on all social media platforms. We encourage anyone who would like an angel included in this video to submit their dedication to the form below.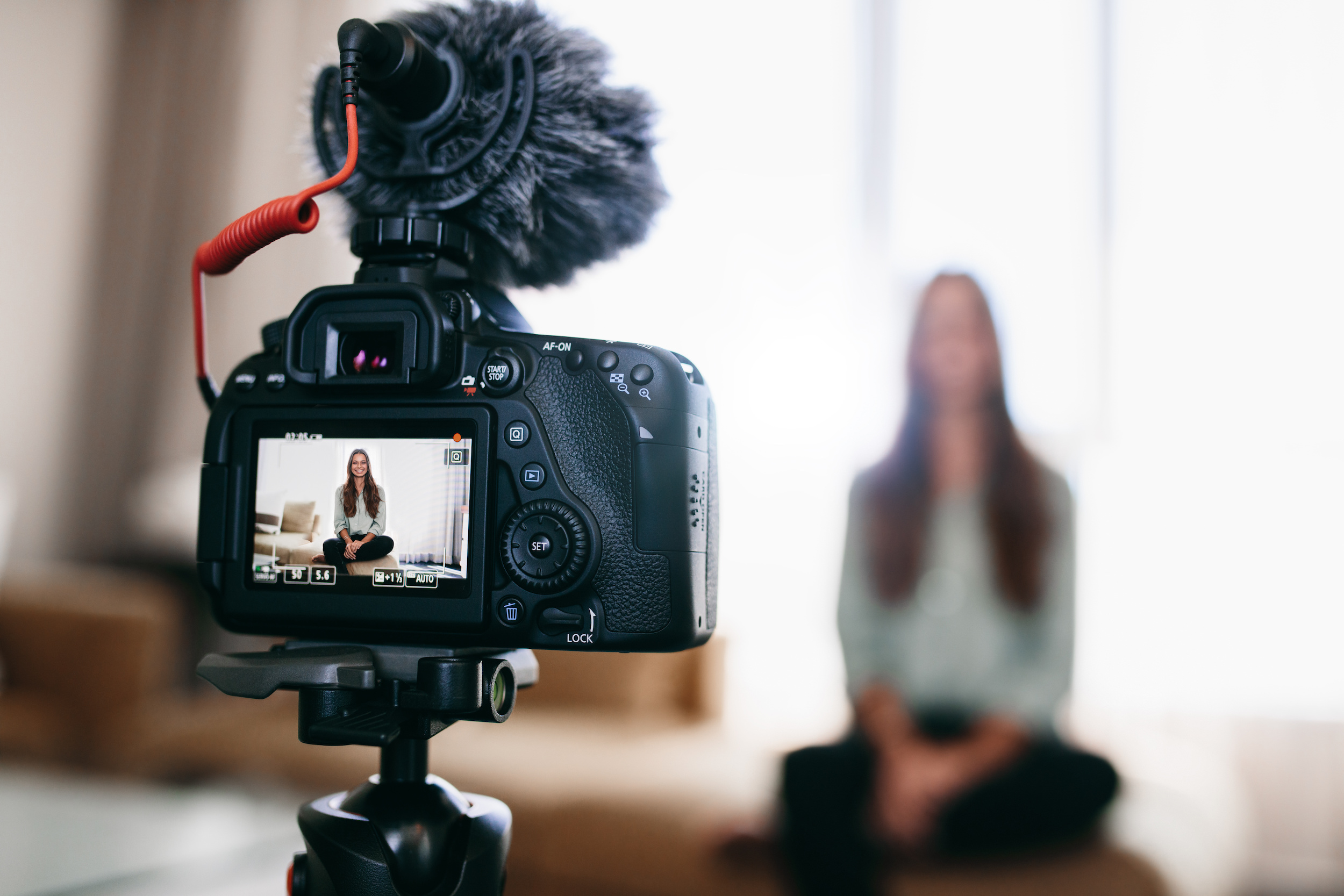 Submissions must be received no later than 5:00pm September 22, 2023 to be guaranteed inclusion in the video. We will do our best to process late submissions,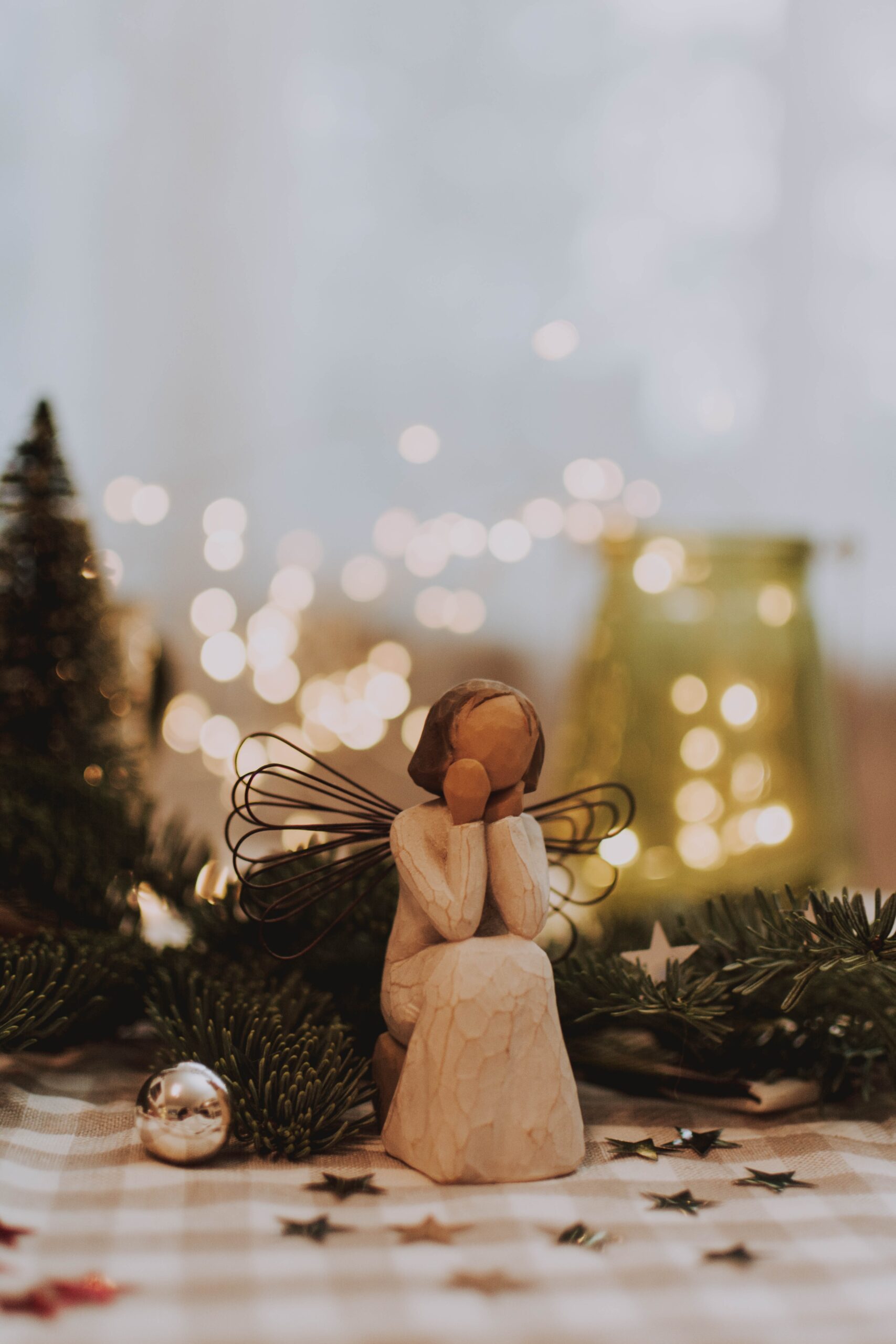 but any submission after the deadline may not be able to be included in the video. We will also play the video at our Fight Fentanyl event on October 7, 2023. You do not have to be in attendance at the Fight Fentanyl event to submit for the Forever Angels Dedication–although
we encourage as many of you as we can to attend. For those interested in having their Forever Angel on a banner at our fall events in addition to the video, you can make a donation in their honor and specify your desire to have them included on the banner. This banner will be present at all official Fentanyl Solution events through 2023.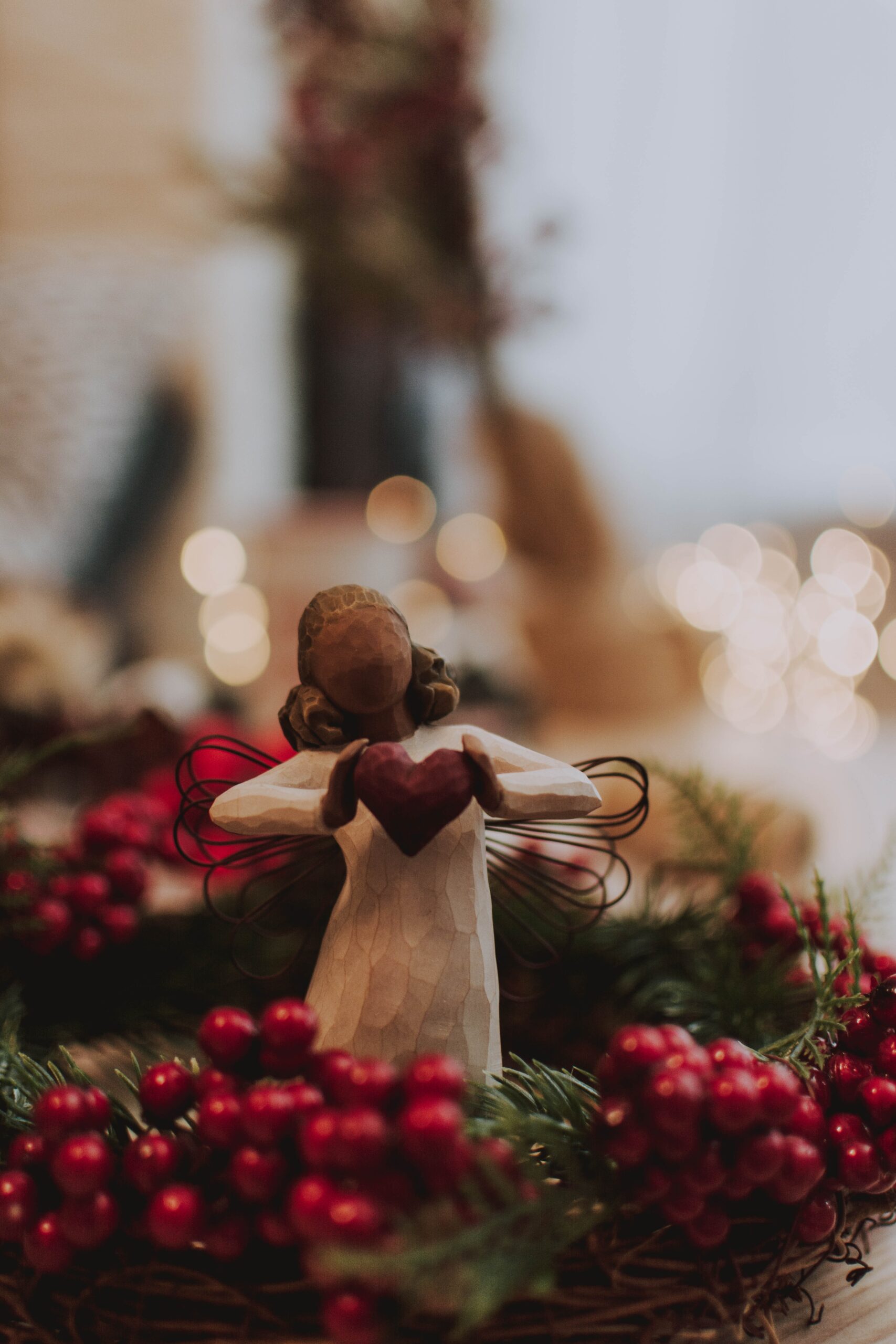 Please click the link below and choose Tribute Dedication. You can put the name of your Forever Angel write "Banner Dedication".

Please reach out to shane@fentanylsolution.org

Unraveling the Deadly Grip of Fentanyl on America & The World

The World Affairs Council of Orange County presents:

Unraveling the Deadly Grip of Fentanyl on America & The World

California is facing an unprecedented drug crisis both in scale and nature, requiring timely legislative responses. Fentanyl, a type of synthetic opioid, is responsible for over two-thirds of drug-related deaths, which spiked last year to 21,000 in California alone. The crisis is especially prevalent in Orange County, with deaths by fentanyl overdose reported to have gone up by 177%, and more potent analogs of fentanyl continued to be found. Moreover, fentanyl is often unknowingly consumed by individuals who believe they are taking other drugs, meaning that the fatal risk of a fentanyl overdose is not taken into consideration by those accidentally taking them, resulting in preventable deaths. Fentanyl precursors are largely sourced from abroad, in places like China and India, which are then shipped to Mexico, where most production takes place. Collaboration with these countries to crack down on fentanyl's production and movement is integral if wish to halt the fentanyl epidemic in the United States.

To tackle this urgent crisis, Senator Tom Umberg proposes several legislative measures: Senate Bill 60, aimed at preventing drug sales on social media, a main outlet for illicit drugs for the youth; Senate Bill 250, expanding the 9-1-1 Good Samaritan Law and providing fentanyl immunity, encouraging people to report their dealers; Senate Concurrent Resolution 39, establishing National Fentanyl Awareness Day; and Senate Bill 44, also known as Alexandra's Law, which aims to hold fentanyl sellers accountable for homicide and prevent fentanyl-related deaths through warnings.

An In-Person Dinner Event

Date & Time:

Wednesday, September 20, 2023

5:30 PM: Reception

6:30 PM: Dinner & Main Program

Location:

To be announced at a later date

Tickets:

To be announced at a later date

Thank you to our community partner, ClearSaves!
ClearSaves is an altruistic nonprofit endeavor fervently committed to engendering positive change within society by championing harm reduction. Through its innovative modus operandi, ClearSaves aspires to furnish the populace with vital resources that facilitate the safeguarding of human lives from the perilous peripheries of the opioid crisis. Check out the ClearSaves table at our event for resources and information on how you can help.
Thank you to our community partner, FentanylSolution.org!

FentanylSolution.org's mission is to deliver comprehensive education, powerful advocacy, and unwavering community support to eradicate fentanyl deaths in the United States. Let us know how we can partner with you or your organization to make a difference. Check out the Fentanyl Solution booth at our event for more information and resources on the fentanyl crisis!
Speaker Bio: Thomas J. Umberg
State Senator Thomas J. Umberg is the Chair of the Senate's Judiciary Committee. He is a retired U.S. Army Colonel, former federal criminal prosecutor, four-term state legislator, small business owner, and was the Deputy Drug Czar for President Clinton.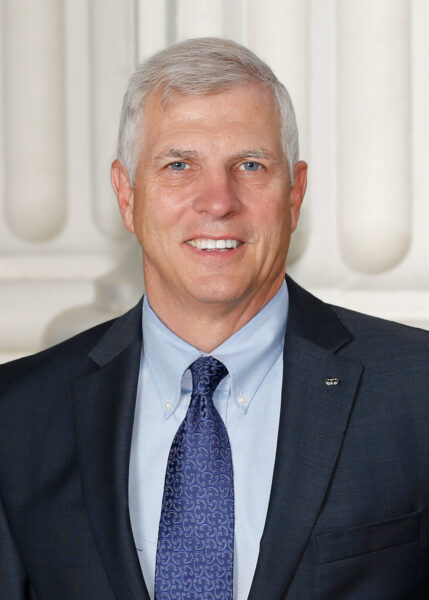 Senator Umberg began his military service at the Korean DMZ and was deployed overseas for three tours – totaling over five years. In addition to his overseas deployments, Colonel Umberg was assigned as a paratrooper with the Army Special Operations Command and the XVIII Airborne Corps.
As a federal and military prosecutor, Senator Umberg prosecuted numerous white collar, civil rights, murder, and sexual assault crimes. He successfully tried over 100 cases to verdict or judgment.
Senator Umberg served as Deputy Drug Czar for President Bill Clinton where he was responsible for foreign drug interdiction, counter-drug intelligence, and international drug policy. Umberg has a deep understanding of the strategies and resources we need to stop the current opioid epidemic and to put an end to senseless gun violence in our communities.
Senator Umberg also served three terms in the State Assembly, representing central Orange County. During this time, he worked across party lines, authored 76 laws, and brought more than $563 million in funds to Orange County.
Senator Umberg founded and built a successful veteran-owned small business in Orange County, recognized as one of California's preeminent boutique law firms by Best Lawyers and The Daily Journal. Senator Umberg knows how to run a business and is a strong advocate for local business owners helping them to cut red tape and streamline unnecessary regulation.
Senator Umberg and his wife, Brigadier General (retired) Robin Umberg, have three children and seven grandchildren.
University of California, Los Angeles – Bachelor of Arts
University of California, College of Law, San Francisco – Juris Doctor
US Army War College — Master of Strategic Studies
Chair of Senate Standing Committee on Judiciary
Senate Military and Veterans Affairs Committee
Senate Housing Committee
Senate Transportation Committee
Joint Committee on Rules
Speaker Bio: Judge (ret.) James Gray
Jim Gray retired after serving as a trial court judge for 25 years here in Orange County. After graduating from UCLA he was a Peace Corps Volunteer in Costa Rica, and after graduating from USC Law School
served as a criminal defense attorney in the US Navy JAG Corps. Thereafter he was a federal prosecutor in Los Angeles. While on the Court he founded Peer Court, which now takes real juvenile delinquency cases to 14 Orange County high schools, where they empanel a jury of high school students who ask questions to the subject, who has already acknowledged involvement in the offenses. Then that jury recommends a sentence to a real judge and, if the subject successfully completes the sentence, the underlying charges are dismissed, and the subject does not have a record. Judge Gray is committed to the WACOC, and is one of its prior chairs.

Addressing the Opioid Crisis in Orange County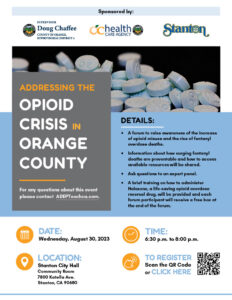 Fentanyl Awareness Rally
Celebrate National Fentanyl Awareness and Prevention Day in Florida
3rd Annual Eric Kemp Memorial Golf Tornament

Sparky Alliance – Igniting Awareness/Inspiring Change is hosting their 3rd Annual 'Eric Kemp Memorial Gold Tournament' on Sunday, August 27, 2023 at the Cross Creek Golf Club 43860 Glen Meadows Road, Temecula, CA 92590. Shotgun start is at 8:30am. Contact Jeff Kemp to register by August 13th at (951) 818-6678. Details will be emailed out by August 20th to all registrants. Registration fee is $125 per person. Pay fee via Venmo @therealjeffkemp.
The registration fee includes:
– 18 holes, cart fees, and range balls
– EJK Gift
– Taco Bar Lunch
– 1 Raffle Ticket

2 man scramble closest to the pin longest drive.
Hole-in-one wins a free car sponsored by Pedder Auto Group!

This event is in partnership with DrugInducedHomicide.org. All proceeds will be allocated towards funding the efforts aimed at passing Alexandra's Law.

Christian's Angelversary – July 19

On Wednesday, July 19, 2023, friends and family showed their support and comforted Tina Burke. She is one of FentanylSolution.org's board members as well as a Christian's mom. Christian was a 21-year-old victim of fentanyl poisoning 3 years ago on July 19, 2020.

He was a senior at the University of Arizona, relishing the summer season back at home in Mission Viejo. A testament to his work ethic and determination, he understood the value of hard work and its rewards. From his
experience as a quarterback and wide receiver for his hometown teams to his devoted studies, he often witnessed the fruits of his labor.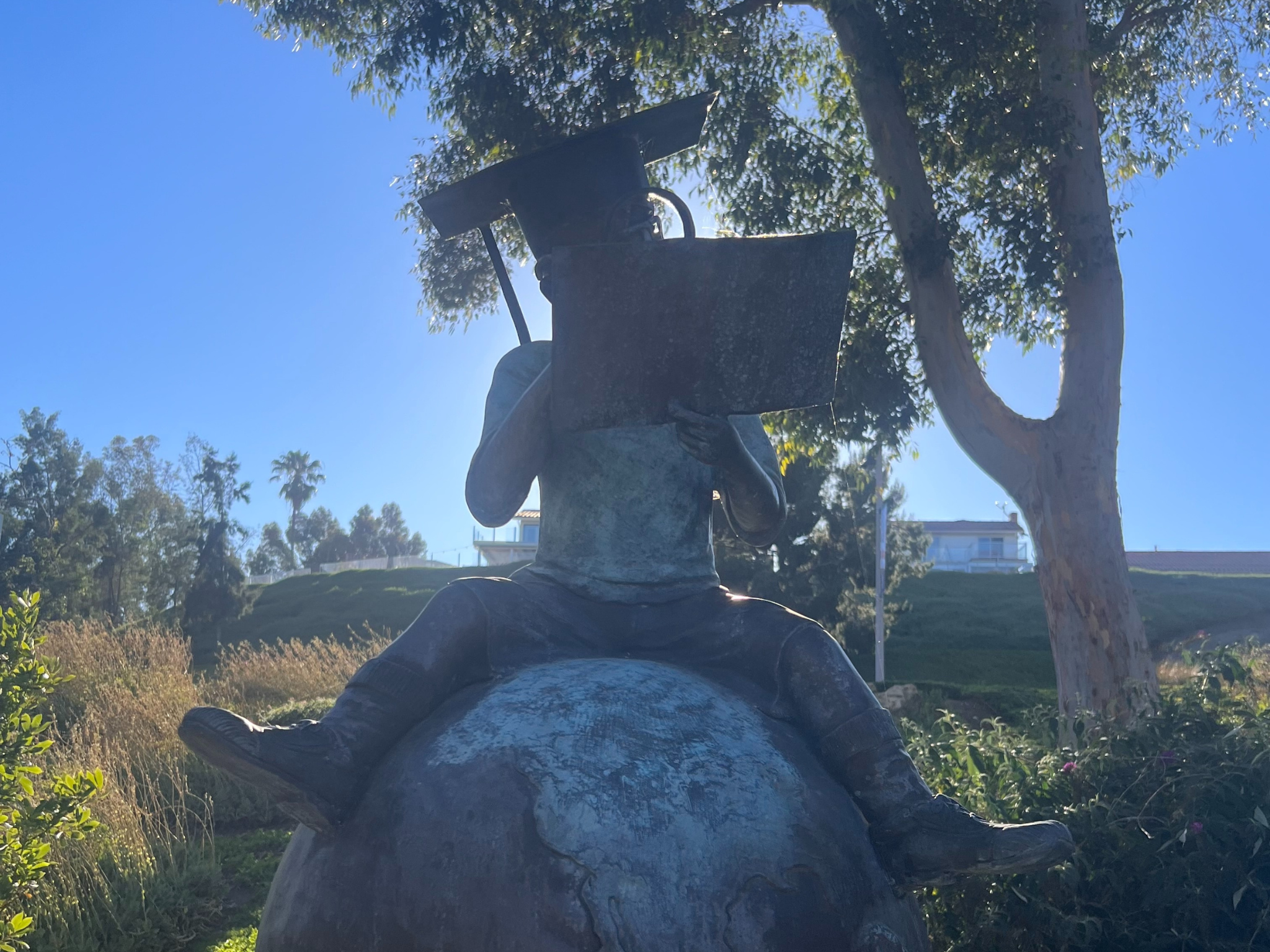 Yet, Christian's vibrant persona transcended his diligent nature. His presence illuminated any room, captivating others with his spirited personality. People were naturally drawn to him, enchanted by his infectious laughter and captivating smile, which exuded love and joy.
Tragically, on July 19, 2020, Christian's life took an abrupt and devastating turn.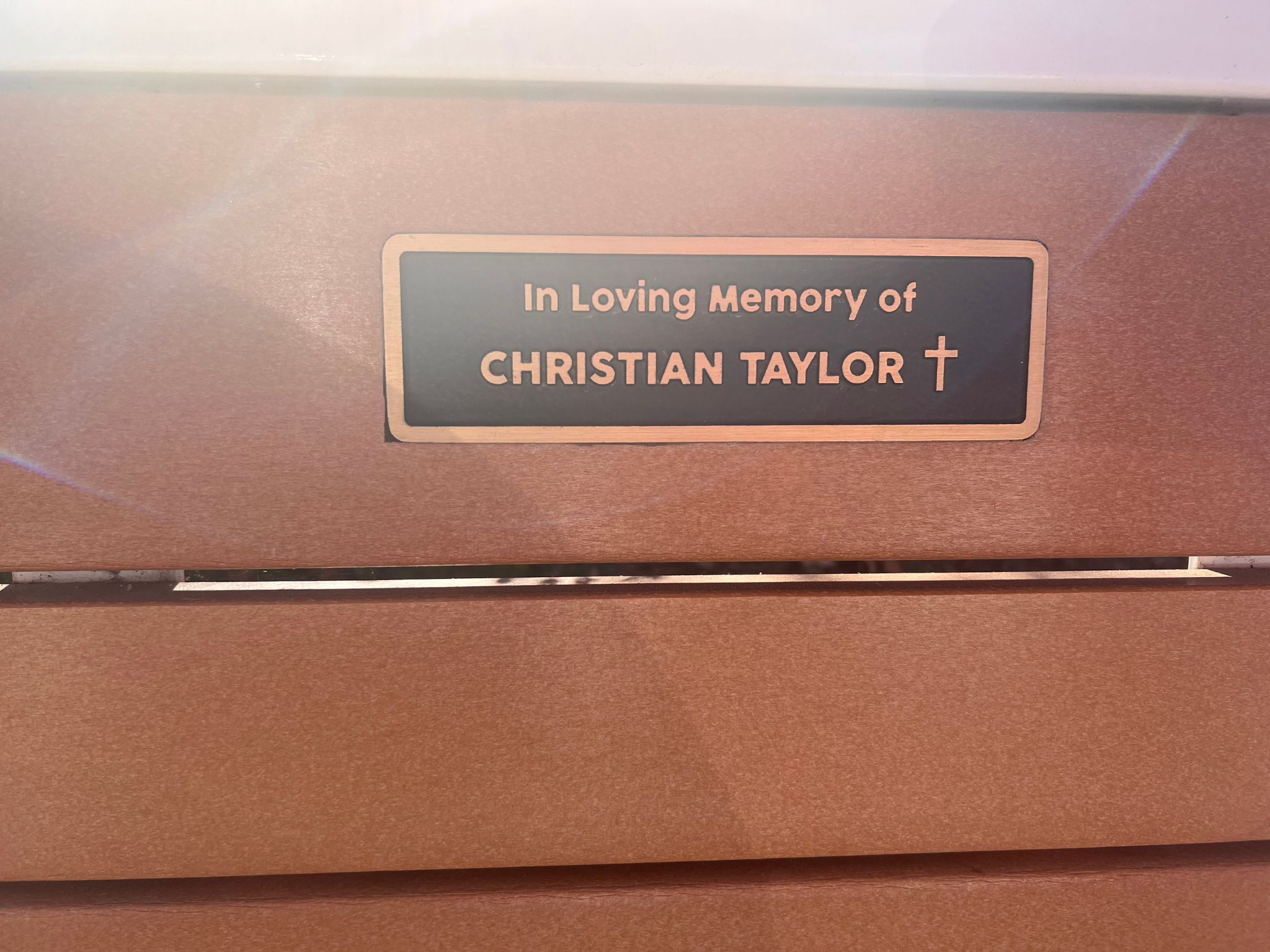 He purchased and consumed a Percocet, unaware that it was a counterfeit pill containing a lethal combination of fentanyl and acetaminophen. Within moments, this beloved 21-year-old cherished son, brother, boyfriend, athlete, and college student, lost his life due to the consumption of a single fake pill.
Join us in our crucial mission to save lives from the fentanyl crisis and drive impactful awareness. Your donation today will make a significant difference!

Father's Against Fentanyl Rally Calls for Action on Father's Day, Urges California Attorney General Rob Bonta to Address Crisis

On Father's Day, Sunday, June 16, 2023, a powerful movement unfolded in front of the California Attorney General's office in Los Angeles, as groups from all across Southern California gathered for the Father's Against Fentanyl rally and press conference. Led by the passionate advocate Matt Capelouto, parents and loved ones who have tragically lost family members to fentanyl poisoning came together to shed light on the devastating impact of the fentanyl crisis. Their urgent plea was directed at California Attorney General Rob Bonta, himself a father, to take decisive action in addressing the fentanyl epidemic.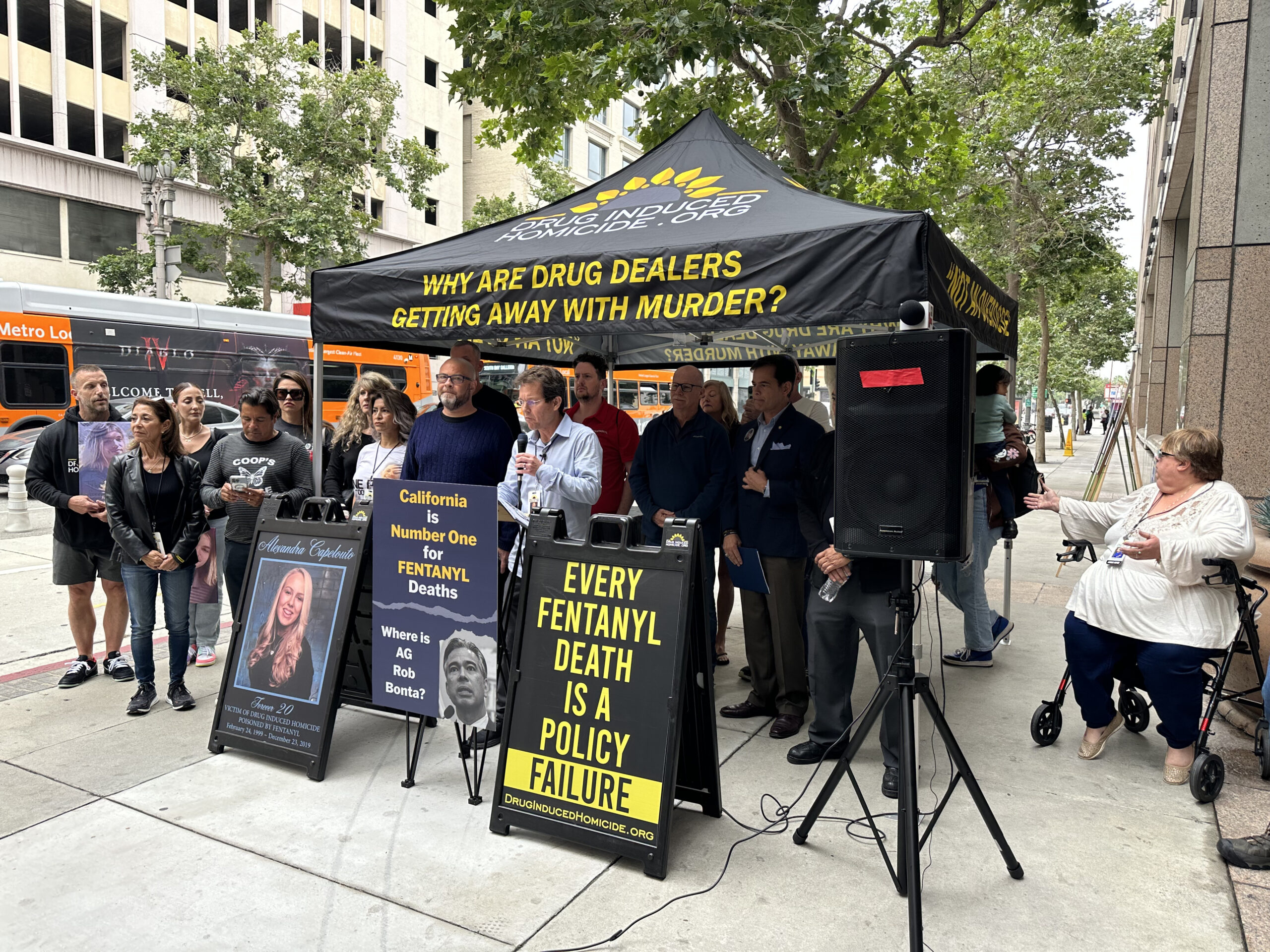 Raising Awareness and Demanding Action
The Father's Against Fentanyl rally on Father's Day was a poignant and symbolic event. Grieving parents and their allies stood united, sharing their personal stories of loss and emphasizing the critical need for effective measures to combat the fentanyl epidemic. Their heartfelt appeals echoed the experiences of countless families devastated by this deadly drug, magnifying the urgency for action.
FentanylSolution.org's Support
During the rally, representatives from various news organizations attended the press conference and conducted interviews with participants. Among those sharing their insights and experiences was Shane Wood, the Director of Development at FentanylSolution.org. The organization, known for its unwavering commitment to combating the fentanyl crisis, joined Matt Capelouto and his organization DrugInducedHomicide.org, has been a leading force in raising awareness, advocating for policy changes, and supporting affected families.
Both organizations have played a crucial role in providing vital resources and information to educate communities about the dangers of fentanyl. Their websites serve as a comprehensive platform offering facts, statistics, and guidance on recognizing and responding to fentanyl-related risks. Through their initiatives, FentanylSolution.org has worked tirelessly to empower individuals and foster dialogue on this pressing issue.
Addressing the Fentanyl Crisis
The prevalence of fentanyl-related deaths has reached alarming levels in recent years, not only in Southern California but across the United States. Fentanyl, a synthetic opioid that is significantly more potent than heroin and morphine, poses a severe threat to public health. Its presence in illicit drug markets has led to a surge in overdose fatalities, leaving families devastated and communities in turmoil.
To effectively combat the fentanyl crisis, a comprehensive and coordinated approach is necessary. This includes increasing penalties for drug traffickers who kill with illicit fentanyl. FentanylSolution.org, along with other dedicated organizations and community activists, advocates for these measures and urges policymakers, including California Attorney General Rob Bonta, to take decisive action.
The Role of California Attorney General Rob Bonta
Rob Bonta, the California Attorney General and a father himself, holds a position of influence and responsibility in addressing the fentanyl crisis. As the state's top law enforcement officer, he plays a vital role in shaping policies and directing resources to combat the epidemic. The Father's Against Fentanyl rally urged Attorney General Bonta to prioritize this urgent issue, employing his authority and influence to drive meaningful change.
Additionally, Assemblywoman Mia Bonta, Rob Bonta's wife, serves on the Assembly Public Safety Committee, which plays a crucial role in shaping legislation related to public safety, including penalties for fentanyl-related offenses. The rally participants expressed concern about the committee's lack of progress in passing bills with penalties, highlighting the urgent need for action and collaboration across all levels of government.
The Father's Against Fentanyl rally on Father's Day was a powerful demonstration of the collective determination to combat the fentanyl crisis and protect communities from the devastating consequences of this lethal drug. Led by Matt Capelouto and supported by FentanylSolution.org, grieving parents and loved ones came together, sharing their stories and intensifying the call for tangible action.
As the fight against fentanyl continues, it is crucial for organizations like FentanylSolution.org to provide essential resources, engage the public, and advocate for policy changes. Together, with the leadership of California Attorney General Rob Bonta and the collective efforts of policymakers, community activists, and affected families, we can forge a path towards a future free from the grip of this deadly epidemic.
---