FentanylSolution.org Launches $2.2 Million Poll-to-Prop Initiative to Combat Fentanyl Epidemic in California

Fentanyl is a highly potent synthetic opioid that has caused immense harm to communities across the United States, including California. The drug, which is up to 100 times more potent than morphine, has been linked to a sharp increase in overdose deaths in recent years, leading to calls for harsher penalties for drug dealers who sell the substance.
FentanylSolution.org, a leading advocacy group committed to raising awareness about the dangers of fentanyl and advocating for stricter penalties for drug dealers who sell the substance, is proud to announce the launch of its $2.2 million Poll-to-Prop initiative.
The initiative seeks to gather public opinion about the need for stricter penalties for drug dealers who sell fentanyl and murder their customers. The results of the poll will be used to draft a statewide proposition that will be put on the ballot for the next presidential election. FentanylSolution.org has partnered with McNally Temple Associates to conduct the poll and gather data that will be used to shape the proposition.
The Poll-to-Prop initiative is a response to the lack of progress of legislative bills aimed at enforcing severe penalties for drug dealers who sell fentanyl and harm their customers. Despite repeated efforts, these bills have failed to pass the Public Safety Committee, prompting FentanylSolution.org to take the initiative and work towards bringing this issue directly to the public through a proposed proposition on the ballot.
"We believe that drug dealers who sell fentanyl and murder their customers must be held accountable for their actions," said Janice M. Celeste, President & CEO of FentanylSolution.org. "The Poll-to-Prop initiative is a crucial step in our efforts to raise awareness about the need for stricter penalties for these criminals."
The $2.2 million initiative marks a significant investment in the fight against fentanyl and represents a major commitment by FentanylSolution.org to its mission of creating safer communities across California. The organization is committed to bringing the proposition to the ballot in the next presidential election and ensuring that the voices of Californians are heard on this important issue.
FentanylSolution.org is dedicated to creating awareness about the dangers of fentanyl and advocating for the development of effective policies that can help combat the opioid epidemic in California. The organization works closely with law enforcement, public health officials, and community leaders to raise awareness about the dangers of fentanyl and provide support to individuals and families affected by the epidemic.
By launching the $2.2 million Poll-to-Prop initiative, FentanylSolution.org is taking a major step forward in the fight against the fentanyl epidemic in California. The organization's commitment to gathering public opinion and shaping policy that reflects the needs and concerns of Californians is crucial in the ongoing effort to combat the opioid crisis. As we move forward, it is important that we continue to support organizations like FentanylSolution.org that are working tirelessly to create safer communities and combat the devastating effects of the opioid epidemic.
Be sure to sign up to be Friends of FentanylSolution.org to stay up-to-date about the Poll-to-Prop initiative.
---
Fentanyl Crisis: Two Views on the War on Drugs with NBC's Conan Nolan

Janice M. Celeste, the President & CEO of FentanylSolution.org, appeared on NBC's News Conference with Conan Nolan to discuss the fentanyl crisis and the proposed Poll-to-Prop ballot initiative. During the interview, Celeste presented her opposing views on the War on Drugs to Public Safety Committee's Chairman, Reggie Jones-Sawyer, who has been reluctant to pass harsher penalties for drug dealers who kill with fentanyl.
Celeste argued that the fentanyl crisis is different from the War on Drugs, pointing out the development of the internet and social media as a key factor in the crisis. She explained how drug dealers are killing exponentially like never before in history, and how they are targeting children en masse, grooming them to become addicts by following them on social media.
In contrast, Jones-Sawyer has referred to fentanyl as the War on Drugs, but has been hesitant to pass harsher penalties for drug dealers. Celeste challenged this statement, emphasizing the urgency of the fentanyl crisis and the need for a comprehensive solution.
Celeste's organization has proposed the Poll-to-Prop ballot initiative, which is a ballot measure that would increase penalties for dealers who knowingly sell drugs laced with fentanyl.
Celeste discussed that fentanyl is often added to other drugs without the user's knowledge. Celeste also emphasized that if drug dealers stalked and groomed children in-person, they would go to prison. Why is it different if they do the same actions on a computer?
The Poll-to-Prop fentanyl ballot initiative has gained support from a wide range of organizations, including law enforcement, healthcare professionals, and addiction treatment centers.
The proposed Poll-to-Prop is a promising step towards preventing accidental poisonings and saving lives, and Celeste's message about the need for public support cannot be emphasized enough.
Celeste urged the public to support the initiative, donate, and emphasized that it is a critical step towards addressing the fentanyl crisis and saving lives. "We need an army," said Celeste. Every bit counts but bigger donations will get us there in time for the Presidential election. You can become a sponsor or donate by emailing at info@fentanylsolution.org or calling 888-931-6244.
---
Combatting the Fentanyl Crisis with O.C. District Attorney Todd Spitzer

The fentanyl crisis has become a pressing concern across the United States, with devastating consequences for individuals and communities. Janice M. Celeste, President & CEO of FentanylSolution.org and The Fentanyl Solution Group, is helping to lead the charge to combat this crisis. Recently, Celeste attended "Wake Up Newport," an event hosted by the Newport Beach Chamber of Commerce, where she met with District Attorney Todd Spitzer to discuss the fentanyl crisis in Orange County. In this meeting, Spitzer shared his plan to take Orange County cases of fentanyl poisonings and prosecute them at the federal level, where prosecutors don't have to prove intent. This move comes as California law requires that prosecutors prove that the dealer knew there was fentanyl in the counterfeit pill to hold them accountable for the harm caused by the drug.

Watch Todd Spitzer's talk about fentanyl in Orange County

The fentanyl crisis has been growing exponentially, with the drug being the leading cause of death for 18-45-year-olds in the U.S. Additionally, Fentanyl is the number one killer of children in Orange County, California. In California, 110 people die from fentanyl every year. Shockingly, 98 percent of pills sold on social media are fake, according to the DEA.

-In response to the fentanyl crisis, Senator Tom Umberg presented SB44, a bill with an admonishment similar to a DUI. FentanylSolution.org was an official supporter of SB44, which reads that if a drug dealer is caught with fentanyl they are read a warning that if they go out and sell fentanyl again and somebody dies, you will be prosecuted for murder.-

Unfortunately, Umberg's bill did not make it past the California Public Safety Commission. However, The Fentanyl Solution Group is sponsoring a proposition for the Presidential ballot, which will allow the people of California to vote for stronger laws against drug dealers who kill. You can support our proposition by contacting us at 888-931-6244 and letting us know how you can get involved.

In a speech at the "Wake Up Newport" event, Spitzer warned about the proliferation of fentanyl in Orange County. He highlighted the importance of holding drug dealers accountable for the harm caused by fentanyl and spoke about the difficulty of proving intent in fentanyl-related cases. Prosecuting these cases at the federal level, where intent does not need to be proven, is a temporary way to address the issue.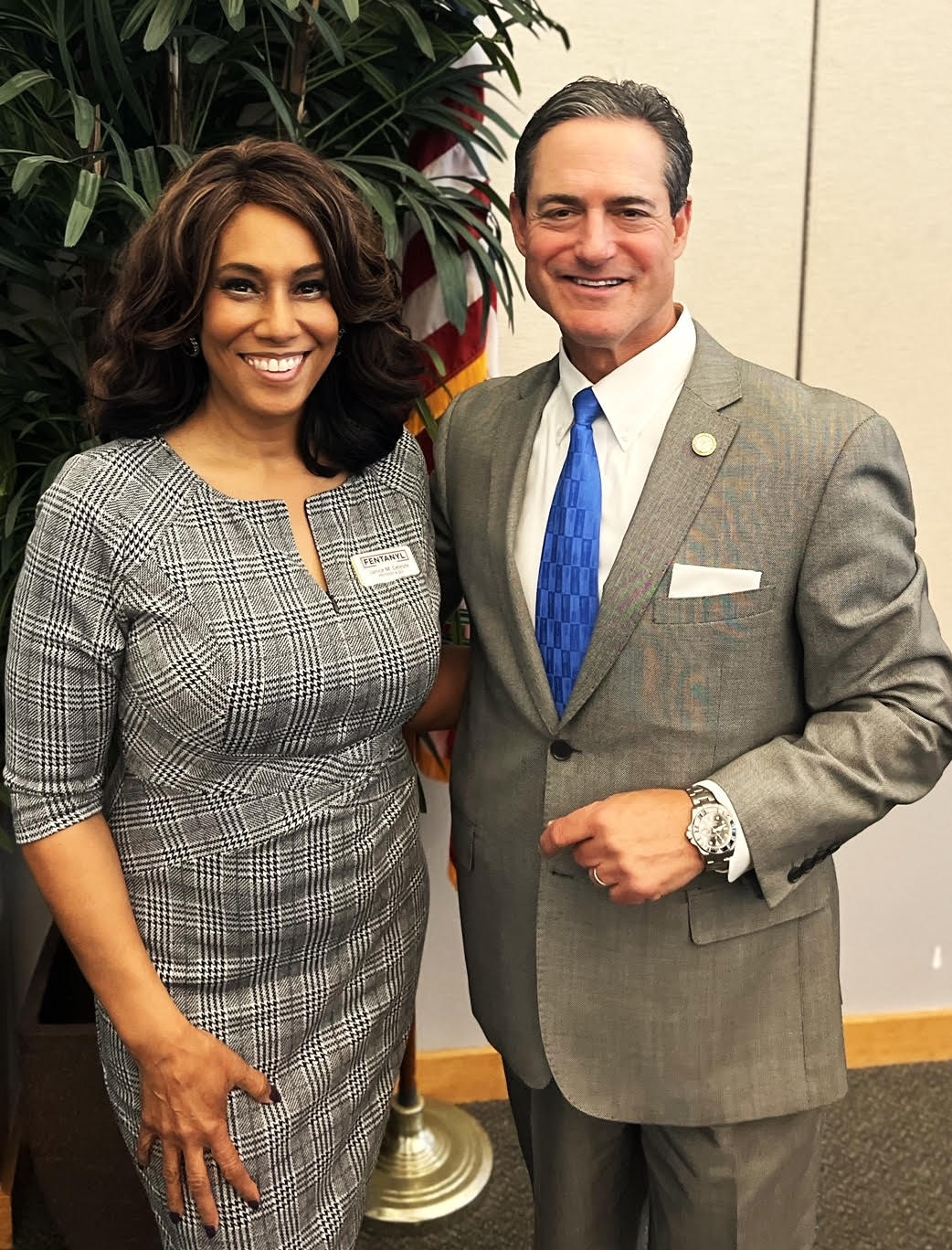 The fentanyl crisis is a complex issue that requires a multifaceted approach. Celeste and FentanylSolution.org are working tirelessly to raise awareness of the dangers of fentanyl and push for stronger laws to hold drug dealers accountable for their actions.
The fentanyl crisis is a major public health issue that demands urgent attention and action. We must work together to raise awareness, improve access to addiction treatment, and hold drug dealers accountable for the harm caused by fentanyl. You can support the efforts of organizations like FentanylSolution.org and take action to combat this deadly epidemic by volunteering or donating. Signup on our website or go to the donation page here.
---
Rally to Save Our Youth: Alexander Neville Foundation and VOID Pressure Snapchat for Duty of Care and 3rd Party Auditing

The Alexander Neville Foundation and VOID held a successful rally in Santa Monica outside of Snapchat's headquarters to save our youth. The group received widespread news coverage. The event, which aimed to pressure Snapchat to adopt a Duty of Care and 3rd party auditing, attracted a large number of attendees and featured several guest speakers who shared their experiences and insights.

Among the speakers were Marc Berkman from the Organization for Social Media Safety, Dr. Laura Berman and Sam Chapman from Parents for Safer Children, and Rose Bronstein from Buckets Over Bullying. They spoke passionately about the need for social media platforms to do more to protect young people from exploitation, drug deaths, and other harms that occur via their platforms.

The rally also highlighted the ease with which drug dealers, sex traffickers, bullies, and other types of exploitation can use Snapchat and other social media platforms to target vulnerable young people. This message resonated with attendees, many of whom shared their own stories of online exploitation or the exploitation of loved ones.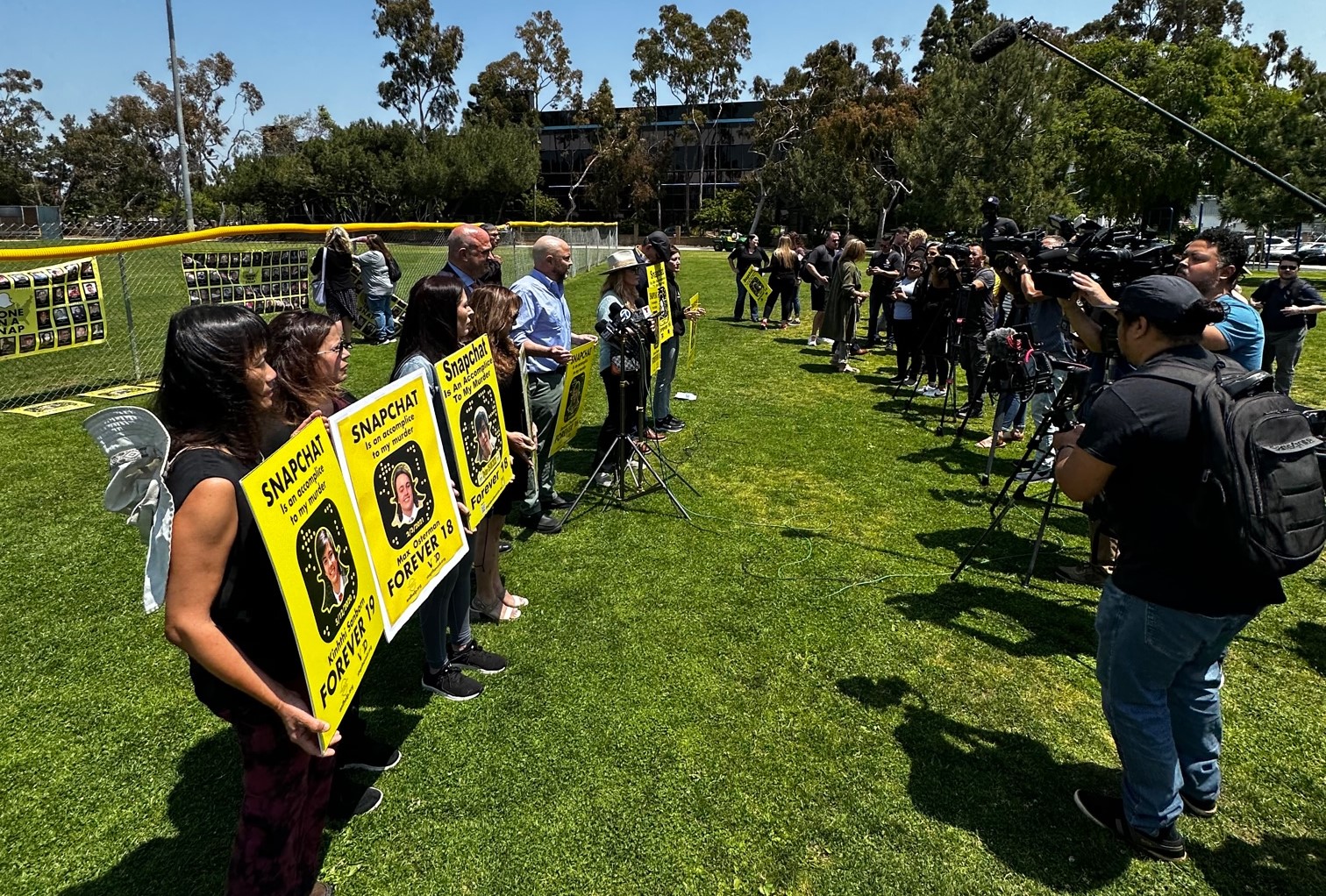 The event was covered by several news outlets, and the message of the rally reached a wide audience. Many media outlets reported on the urgent need for social media platforms to take more responsibility for the safety of their users, especially young people.
The success of the rally was a testament to the dedication of the Alexander Neville Foundation and VOID, who are committed to raising awareness about the dangers of social media exploitation. Their efforts to pressure Snapchat to do more to protect young people are an important step in creating a safer and more supportive online community for all.
---
Bill on Fentanyl-Related Drug Penalties Passed House with Bipartisan Support

Washington, DC. — In a rare display of bipartisan cooperation, dozens of Democrats joined their Republican counterparts in passing a bill focused on fentanyl-related drug penalties. This legislation aims to address the growing concerns surrounding the illicit use and distribution of fentanyl, a potent synthetic opioid linked to a significant rise in overdose deaths across the United States.
The recently passed bill has potential implications for fentanyl dealers in California, where the impact of this dangerous drug has been particularly severe. Here are some key points on how the bill might affect fentanyl dealers in the state:
Increased Penalties: The bill likely includes provisions that would enhance penalties for fentanyl-related offenses. This could lead to stricter sentences and harsher consequences for individuals involved in the illegal production, distribution, and sale of fentanyl in California.
Sentencing Guidelines: The legislation might establish specific sentencing guidelines that judges must consider when dealing with fentanyl-related cases. These guidelines could aim to ensure more consistent and severe punishments for offenders involved in fentanyl trafficking or sales.
The HALT Fentanyl Act still has to pass in the Senate and has a good chance. Biden has given his nod that he will sign the bill into law. Stay tuned.
---
Fentanyl Bills PASSED
---
AB 19 – Requires schools to keep Narcan available on campus.

AB 33 – Creates a Fentanyl Addiction and Overdose Prevention Task Force.

AB 461 – Makes fentanyl test strips available on college campuses.

AB 474 – Fosters cooperation between the State Threat Assessment Center and local law enforcement for fentanyl enforcement.

AB 701 – Creates a sentencing enhancement for possessing enough fentanyl to kill at least half a million people.

AB 889 – Ensures parents are taught about the dangers of fentanyl.

AB 890 – Creates a fentanyl-specific probation class for those convicted of fentanyl crimes.

AB 915 – Teaches students to recognize overdoses and how to use Narcan.

AB 1060 – Requires insurers to cover the cost of Narcan.

Father's Against Fentanyl Rally Calls for Action on Father's Day, Urges California Attorney General Rob Bonta to Address Crisis

On Father's Day, Sunday, June 16, 2023, a powerful movement unfolded in front of the California Attorney General's office in Los Angeles, as groups from all across Southern California gathered for the Father's Against Fentanyl rally and press conference. Led by the passionate advocate Matt Capelouto, parents and loved ones who have tragically lost family members to fentanyl poisoning came together to shed light on the devastating impact of the fentanyl crisis. Their urgent plea was directed at California Attorney General Rob Bonta, himself a father, to take decisive action in addressing the fentanyl epidemic.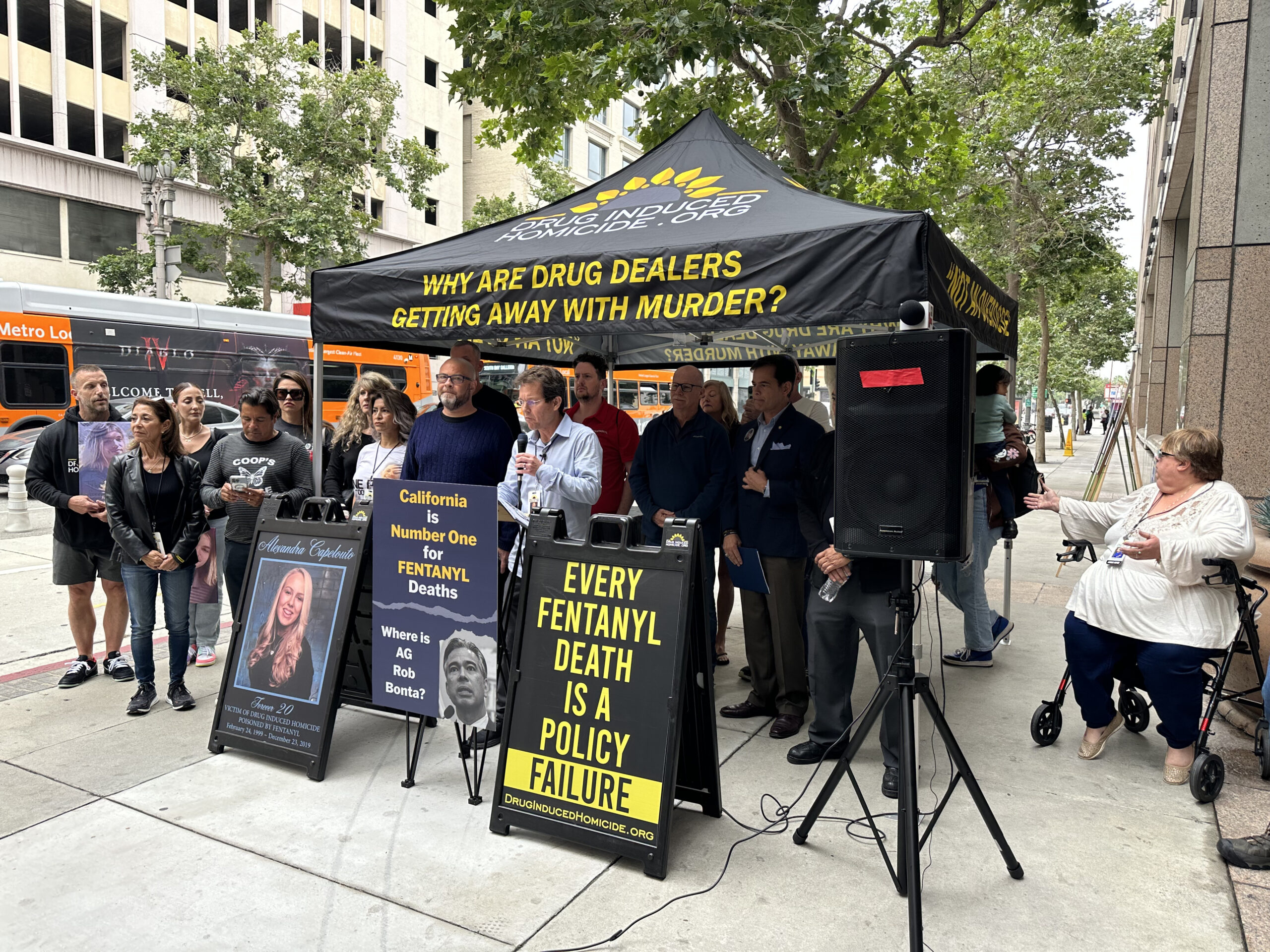 Raising Awareness and Demanding Action
The Father's Against Fentanyl rally on Father's Day was a poignant and symbolic event. Grieving parents and their allies stood united, sharing their personal stories of loss and emphasizing the critical need for effective measures to combat the fentanyl epidemic. Their heartfelt appeals echoed the experiences of countless families devastated by this deadly drug, magnifying the urgency for action.
FentanylSolution.org's Support
During the rally, representatives from various news organizations attended the press conference and conducted interviews with participants. Among those sharing their insights and experiences was Shane Wood, the Director of Development at FentanylSolution.org. The organization, known for its unwavering commitment to combating the fentanyl crisis, joined Matt Capelouto and his organization DrugInducedHomicide.org, has been a leading force in raising awareness, advocating for policy changes, and supporting affected families.
Both organizations have played a crucial role in providing vital resources and information to educate communities about the dangers of fentanyl. Their websites serve as a comprehensive platform offering facts, statistics, and guidance on recognizing and responding to fentanyl-related risks. Through their initiatives, FentanylSolution.org has worked tirelessly to empower individuals and foster dialogue on this pressing issue.
Addressing the Fentanyl Crisis
The prevalence of fentanyl-related deaths has reached alarming levels in recent years, not only in Southern California but across the United States. Fentanyl, a synthetic opioid that is significantly more potent than heroin and morphine, poses a severe threat to public health. Its presence in illicit drug markets has led to a surge in overdose fatalities, leaving families devastated and communities in turmoil.
To effectively combat the fentanyl crisis, a comprehensive and coordinated approach is necessary. This includes increasing penalties for drug traffickers who kill with illicit fentanyl. FentanylSolution.org, along with other dedicated organizations and community activists, advocates for these measures and urges policymakers, including California Attorney General Rob Bonta, to take decisive action.
The Role of California Attorney General Rob Bonta
Rob Bonta, the California Attorney General and a father himself, holds a position of influence and responsibility in addressing the fentanyl crisis. As the state's top law enforcement officer, he plays a vital role in shaping policies and directing resources to combat the epidemic. The Father's Against Fentanyl rally urged Attorney General Bonta to prioritize this urgent issue, employing his authority and influence to drive meaningful change.
Additionally, Assemblywoman Mia Bonta, Rob Bonta's wife, serves on the Assembly Public Safety Committee, which plays a crucial role in shaping legislation related to public safety, including penalties for fentanyl-related offenses. The rally participants expressed concern about the committee's lack of progress in passing bills with penalties, highlighting the urgent need for action and collaboration across all levels of government.
The Father's Against Fentanyl rally on Father's Day was a powerful demonstration of the collective determination to combat the fentanyl crisis and protect communities from the devastating consequences of this lethal drug. Led by Matt Capelouto and supported by FentanylSolution.org, grieving parents and loved ones came together, sharing their stories and intensifying the call for tangible action.
As the fight against fentanyl continues, it is crucial for organizations like FentanylSolution.org to provide essential resources, engage the public, and advocate for policy changes. Together, with the leadership of California Attorney General Rob Bonta and the collective efforts of policymakers, community activists, and affected families, we can forge a path towards a future free from the grip of this deadly epidemic.
---
Unraveling the Deadly Grip of Fentanyl on America & The World

The World Affairs Council of Orange County presents:

Unraveling the Deadly Grip of Fentanyl on America & The World

California is facing an unprecedented drug crisis both in scale and nature, requiring timely legislative responses. Fentanyl, a type of synthetic opioid, is responsible for over two-thirds of drug-related deaths, which spiked last year to 21,000 in California alone. The crisis is especially prevalent in Orange County, with deaths by fentanyl overdose reported to have gone up by 177%, and more potent analogs of fentanyl continued to be found. Moreover, fentanyl is often unknowingly consumed by individuals who believe they are taking other drugs, meaning that the fatal risk of a fentanyl overdose is not taken into consideration by those accidentally taking them, resulting in preventable deaths. Fentanyl precursors are largely sourced from abroad, in places like China and India, which are then shipped to Mexico, where most production takes place. Collaboration with these countries to crack down on fentanyl's production and movement is integral if wish to halt the fentanyl epidemic in the United States.

To tackle this urgent crisis, Senator Tom Umberg proposes several legislative measures: Senate Bill 60, aimed at preventing drug sales on social media, a main outlet for illicit drugs for the youth; Senate Bill 250, expanding the 9-1-1 Good Samaritan Law and providing fentanyl immunity, encouraging people to report their dealers; Senate Concurrent Resolution 39, establishing National Fentanyl Awareness Day; and Senate Bill 44, also known as Alexandra's Law, which aims to hold fentanyl sellers accountable for homicide and prevent fentanyl-related deaths through warnings.

An In-Person Dinner Event

Date & Time:

Wednesday, September 20, 2023

5:30 PM: Reception

6:30 PM: Dinner & Main Program

Location:

To be announced at a later date

Tickets:

To be announced at a later date

Thank you to our community partner, ClearSaves!
ClearSaves is an altruistic nonprofit endeavor fervently committed to engendering positive change within society by championing harm reduction. Through its innovative modus operandi, ClearSaves aspires to furnish the populace with vital resources that facilitate the safeguarding of human lives from the perilous peripheries of the opioid crisis. Check out the ClearSaves table at our event for resources and information on how you can help.
Thank you to our community partner, FentanylSolution.org!

FentanylSolution.org's mission is to deliver comprehensive education, powerful advocacy, and unwavering community support to eradicate fentanyl deaths in the United States. Let us know how we can partner with you or your organization to make a difference. Check out the Fentanyl Solution booth at our event for more information and resources on the fentanyl crisis!
Speaker Bio: Thomas J. Umberg
State Senator Thomas J. Umberg is the Chair of the Senate's Judiciary Committee. He is a retired U.S. Army Colonel, former federal criminal prosecutor, four-term state legislator, small business owner, and was the Deputy Drug Czar for President Clinton.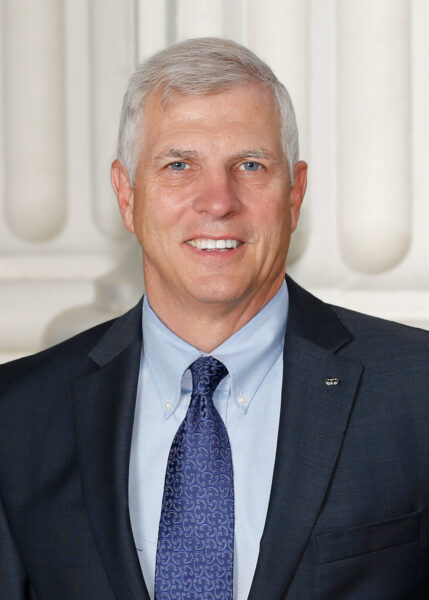 Senator Umberg began his military service at the Korean DMZ and was deployed overseas for three tours – totaling over five years. In addition to his overseas deployments, Colonel Umberg was assigned as a paratrooper with the Army Special Operations Command and the XVIII Airborne Corps.
As a federal and military prosecutor, Senator Umberg prosecuted numerous white collar, civil rights, murder, and sexual assault crimes. He successfully tried over 100 cases to verdict or judgment.
Senator Umberg served as Deputy Drug Czar for President Bill Clinton where he was responsible for foreign drug interdiction, counter-drug intelligence, and international drug policy. Umberg has a deep understanding of the strategies and resources we need to stop the current opioid epidemic and to put an end to senseless gun violence in our communities.
Senator Umberg also served three terms in the State Assembly, representing central Orange County. During this time, he worked across party lines, authored 76 laws, and brought more than $563 million in funds to Orange County.
Senator Umberg founded and built a successful veteran-owned small business in Orange County, recognized as one of California's preeminent boutique law firms by Best Lawyers and The Daily Journal. Senator Umberg knows how to run a business and is a strong advocate for local business owners helping them to cut red tape and streamline unnecessary regulation.
Senator Umberg and his wife, Brigadier General (retired) Robin Umberg, have three children and seven grandchildren.
University of California, Los Angeles – Bachelor of Arts
University of California, College of Law, San Francisco – Juris Doctor
US Army War College — Master of Strategic Studies
Chair of Senate Standing Committee on Judiciary
Senate Military and Veterans Affairs Committee
Senate Housing Committee
Senate Transportation Committee
Joint Committee on Rules
Speaker Bio: Judge (ret.) James Gray
Jim Gray retired after serving as a trial court judge for 25 years here in Orange County. After graduating from UCLA he was a Peace Corps Volunteer in Costa Rica, and after graduating from USC Law School
served as a criminal defense attorney in the US Navy JAG Corps. Thereafter he was a federal prosecutor in Los Angeles. While on the Court he founded Peer Court, which now takes real juvenile delinquency cases to 14 Orange County high schools, where they empanel a jury of high school students who ask questions to the subject, who has already acknowledged involvement in the offenses. Then that jury recommends a sentence to a real judge and, if the subject successfully completes the sentence, the underlying charges are dismissed, and the subject does not have a record. Judge Gray is committed to the WACOC, and is one of its prior chairs.

Addressing the Fentanyl Crisis with Janet Nguyen

In this "The Fentanyl Solution" podcast episode, Senator Nguyen shares her personal motivation for fighting the fentanyl crisis, emphasizing the need to protect children and young adults from its dangers.
The discussion then pivots to the formidable hurdles faced in Sacramento when endeavoring to pass legislation aimed at addressing the fentanyl crisis. Within this
discourse, they delve into distinguishing between overdose cases and instances where children and teenagers unknowingly ingest fentanyl.
Furthermore, the imperative need for comprehensive legislation is explored, as well as the severe repercussions for those engaged in fentanyl trafficking.
Additionally, Senator Nguyen underscores the significance of observing Fentanyl Awareness Days on both federal and state levels. She fervently encourages parents, grandparents, and all concerned individuals to initiate conversations about fentanyl and its inherent dangers, underscoring the pivotal role of spreading awareness in safeguarding communities.
Join us in our crucial mission to save lives from the fentanyl crisis and drive impactful awareness. Your donation today will make a significant difference!